The two activities are more closely aligned than you might believe, claims one industry professional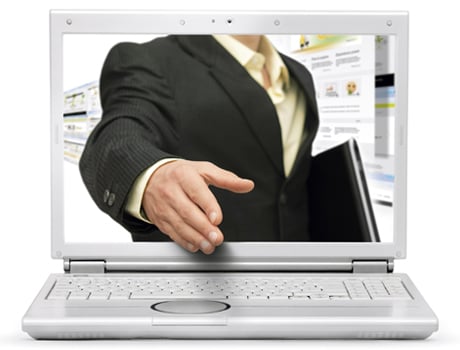 The best date of my life began with the match of online dating profiles of two complete strangers and ended just before midnight on a Saturday. As a recruiting industry executive, the connection between my personal and private life hit me as I arrived on my front door step with a stomach full of butterflies and the biggest smile ever on my face.
After a long week of recruiting talent for a Fortune 100 company and reflecting on how it all happened, I can't help but recognise a direct correlation between online dating and recruiting. Although the correlation may not seem as evident on the surface, allow me to unveil the nearly identical steps that both a courter and recruiter would take to find the perfect match.
Profile vs. Setup
Much like an online dating profile, in recruiting, you have to put your best face forward. When finding a potential match on a dating site, you are looking for an intriguing profile that stands out from the crowd. Their interest, hobbies, and activities must offer insight into what would make them an ideal match.
When finding potential candidates during the recruiting process, recruiters are looking for profiles of individuals that offer insight into what would make them an ideal candidate. Things like education, skill sets, experience, and accolades all play an important role in sparking a recruiter's interest. All things considered, the profile in both cases is the window to showcase what the potential match or candidate has to offer.
Search vs. Sourcing
In order to find that perfect online match or candidate, you have to actually play the field and do some active searching. When browsing an online dating site, you must actively search the database for potential matches that embody certain qualities and criteria you may be interested in such as age, gender, ethnicity, interests, hobbies, pets, location, etc. But to be very clear, these qualities and criteria (specifically age, gender, and ethnicity) are non-factors during recruiting which reinforces a fair and legal hiring process.
When recruiters are sourcing for candidates, the process is comparable to searching profiles in online dating sites. Recruiters are actively searching various databases to find candidates that meet specific benchmarks above in "profile vs. setup". These include benchmarks such as employment history, education, leadership experience, certifications, special skill sets and abilities like languages, and extracurricular activities.
Qualifying vs. Screening
Once you've found a potential match that embodies the qualities and criteria you were searching for, the next step is to send a message and open up direct communication. Either through direct messaging, texting, or phone call you prequalify the potential match for behavioural qualities that are aligned with your own. You take note of how they react to things on the spot – their sense of humour, seriousness, flirtatiousness, sincerity, and any other characteristics that help maintain a harmonious relationship.
There's really no difference when it comes to screening candidates during the recruiting process. The initial screen, or behavioural descriptive phone interview, consists of skill-based and behavioural competency questions that evaluate and score candidates on a wide variety of conditions. Some of these conditions may include the ability to problem-solve, work in teams, or work in a specific type of culture or atmosphere. Other conditions may be their level of creativity, critical thinking, and ability to multitask. The purpose of this screen is to further confirm that the information in the candidate's profile matches the conversation and confirms a match for the role.
First Date vs. Scheduling
At last, you're onto something! Assuming the pre-qualifying flirty texts throughout the days lead to more cosy, in depth phone calls, it's now time to schedule a first date. The first date is never guaranteed to happen. It's a fairly significant commitment to not only offer hours of your time texting and conversing over the phone, but also offer hours of your physical presence to someone who may not turn out to be what you expected. This can be awfully frustrating and is the reason that pre-qualification in the previous Qualifying stage is so critical.
Much like pre-qualifying in online dating, accurate screening questions in recruiting plays a critical role in the ability to schedule quality interviews among hiring managers and candidates. Effective screening saves time and frustration for the hiring manager who has entrusted the recruiter with scheduling quality interviews. In both instances, the first date and the interview is where you make sure the credentials you previously screened for come to life during the live interaction.
Follow Up vs. Feedback
After the first date it's time for you to evaluate everything that has occurred up to this point. Your evaluation of the date will take a few things into consideration: your expectations prior to the first date, their punctuality, level of energy and excitement, confidence, body language, eye contact, level of engagement, and fluidity of the conversation. After your evaluation, you would follow up with your date and discuss whether or not you want to move forward with second date.
In recruiting, after the initial onsite interview, recruiters follow up with the hiring manager for feedback. This helps managers gauge the recruiter's understanding of the role and the effectiveness of their screening process. Hiring managers evaluate candidates based on several criteria: attire, punctuality, personality, body language, energy, their insight in response to questions, understanding of the role, and professional expertise in the field in which they are interviewing. Depending on the hiring manager's feedback, recruiters would contact the candidate and inform them as to whether or not the hiring manager would like to continue with the hiring process.
Second Date vs. Offer
If the first date goes off without a hitch, then chances are there will be a second date in the near future. During the second date, and hopefully many dates thereafter, you have the opportunity to go beyond surface level conversation and really determine if you want to date this person long-term. You can also use social media to help come to a conclusion about your potential match. With social media at your fingertips, you can "research" (or flat out stalk) their profile to get a better sense of who you are dealing with, how they spend their free time, who they spend their free time with, or if there is any other competition in the picture that you may need to know about and strategically remove. If everything has gone well and no red flags have been raised, you can express your desire to date exclusively.
The recruiting process runs a similar course. In online dating you would research a potential match's social media profile as a reference check as mentioned above. However, in recruiting, the recruiter or hiring manager would administer a reference check with previous employers and colleagues of the candidate to get a better sense of what it's really like to work with them. If the candidate impresses the hiring manager in the second interview, or third interview if necessary, then a job offer is extended to the candidate. The recruiter would provide details of the offer such as salary, benefits, hours, start date, and any further specifics about the position.
Match vs. Onboarding
If the feelings are mutual with your potential match, then congratulations, it's official! You and your beau have entered into a relationship where you will both continue to work toward a long and happy life together; striving towards common goals. Go ahead and spread the word! Update your relationship status on Facebook, introduce them to your friends and family, and upload the cheesiest photo of you two on your social media networks to make your exes jealous! You played the field, and now you must continue to play for each other's heart. Don't screw things up by getting complacent now that you've found a great catch. Make every day count!
In recruiting, if the candidate accepts the offer then the onboarding and pre-employment process will begin. You administer background, credit, and drug check procedures. Upon successful completion of these checks, the candidate is officially an employee and can announce it to the world. They can update their LinkedIn profile, tell their friends and family, and put in that long awaited two weeks' notice. Hiring managers should set new hires up for success starting from day one. Have their work area set up with their computer, phone, and any other office supplies necessary for them to perform in their new role. Introduce them around the office and highlight their brilliance to reassure them of your confidence in them.
There you have it. It's clear that the processes for online dating and recruiting mirror each other. So if you're single and good at recruiting, your chances of nailing online dating are pretty high. Take me for example. As you already know, my first date went extremely well, and my hope is that the future dates will mimic a successful recruiting process (only with a little more romance).
Written by Noelle Schiller, Director, Client Services, Talent Acquisition of Seven Step RPO, a leading global Recruitment Process Outsourcing (RPO) company.
Related stories:
Five ways to use social media when recruiting
Why employers should be "brutally clear" with new hires
Three talent acquisition tactics you might not have thought of