The number of women on Singapore boards is increasing – what can HR do to help female representation grow even further?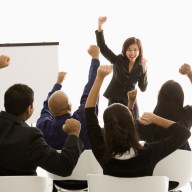 The increasing number of female company directors is encouraging, the chairman of Singapore's stock exchange says. However, there is still a lot of work to be done, with the percentage of females at the helm of Singapore companies remaining in the single digits.
Singapore's Diversity Action Committee released a report last Friday which highlighted that the number of directorships or board seats held by women in Singapore rose 10%, from 406 in 2013, to 448 last year.
DAC chairman and SGX chief executive Magnus Bocker said the increased representation of women on boards of SGX-listed companies was encouraging.
"Though we still have a long way to go, the findings support how a rising number of companies and their boards are taking steps to foster better governance and business-performance with a more gender-diverse board."
As of the end of last year, women held 8.8% of the 5,082 directorships on companies listed on the SGX – up from 8.3% at the end of 2013 and 8% at the end of 2012, the report said.
New board appointments increased the pool of women by 91, but at the same time, 49 women stepped down from board positions.
The single-digit phenomenon was slammed earlier this year by the chief executive of US-based company Xerox, Ursula Burns.
"Half the world are women, but they are literally in single-digit numbers in the C-suite," the frank-speaking New Yorker said to
HRD Singapore
. "How in the hell can that be?"
Figures released this month show women currently hold 23 (4.6%) of CEO positions at S&P 500 companies.
Norway — the first country in the world to impose a gender quota for large corporations — leads the way, with women accounting for 36.1% of board members. However, Burns said this wasn't as a result of an imposed quota but rather a different corporate mentality.
So what can HR departments in Singapore companies do to help encourage the increase of women board members?
Last year, Australia's Women on Boards chair Ruth Medd gave some tips:
Encourage boards to look broadly for new members to include female candidates
Make sure recruitment procedures are open and transparent
Ensure that organisational diversity is an intrinsic part of the business
Consider candidates who have taken a different path to a board career than the traditional progression from the c-suite