The Ministry of Defence has noticed a wider number of firms changing their HR policies to help employees meet their national service obligations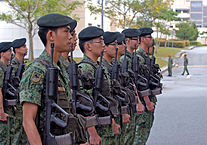 More firms are employing pro-national service (NS) policies and flexible HR strategies to support workers' added commitments, the Ministry of Defence (MINDEF) has said.
While MINDEF told
The Straits Times
that a greater number of multinational organisations and smaller businesses were bringing in these additional policies, it did not announce any actual figures.
"Among businesses and organisations, we have observed more of them coming on board to offer a range of supportive human resource practices," said Simon Lim, MINDEF's national service affairs director.
"These span from discouraging [national servicemen (NSmen)] from deferring [In-Camp Training (ICT)] to recognising NSmen's good performance during ICT."
As an example case study, MINDEF spoke about City Developments Limited (CDL) – a firm with over 420 employees, 25 of which have NS commitments.
CDL offers NSmen one day of leave to prepare for the Individual Physical Proficiency Test (IPPT) and a half day of leave at the end of the ICT to recuperate.
There are also monetary rewards and other benefits offered to those who pass or improve at the IPPT, plus regular sports programs to encourage a more active lifestyle amongst staff.
Kevin Kwok, a senior manager at CDL told
The Straits Times
his superiors would review his projects prior to the ICT to see if he required additional resources or extended deadlines.
"This allows me to focus on my NS responsibilities with peace of mind," he said.
Through its efforts, CDL was one of the 122 recipients of last year's Total Defence Awards run by MINDEF and the Singapore Armed Forces (SAF).
Do you have any special HR policies to support NSmen within your firm? If you do, please let us know in the comments below.
Related stories:
Transport firm gives go ahead for first class benefits package
Four things HR can learn from the sporting world
Major paternity leave plans from Mark Zuckerberg