In light of comments made by the deputy prime minister yesterday, HRD investigates what can HR professionals can do to help mitigate the consequences of a lone-wolf terrorist attack in the workplace.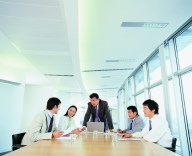 All HR professionals have encountered the lone wolf – an employee who works best alone and struggles in social or team situations.
The term – which is derived from wolf behaviour, in cases where wolves have left or been excluded from their pack – is also a label used by law enforcement agencies and media around the world to refer to those individuals conducting violent acts of terrorism not under the umbrella of an organisation like ISIS.
Singapore's deputy prime minister, Teo Chee Hean, yesterday reiterated the rise in "lone-wolf" terrorist attacks globally during his speech the inaugural East Asia Summit Symposium on Religious Rehabilitation and Social Integration.
"Being lone wolves, their identities may not be easily uncovered and they can strike at any time, using any means at their disposal," he
said
.
So where does HR come in?
"Workplaces are good targets for terrorist acts because they are consistent gathering places of many people at once," Xpert HR legal editor Ashley Shaw said.
In order to help mitigate the consequences of a terrorist attack in the workplace, HR professionals can look at the creation of a company terrorism response and prevention plan, and keep employees abreast of it.
"There are many ways that a terrorist act could occur, and employers should be prepared for any of them," Shaw said.
Acts could include shootings, chemical or biological attacks, bombs and more.
"Workplaces should be prepared by teaching employees how to handle bomb threats, recognise suspicious packages, report unusual behaviour and successfully evacuate buildings. Crisis Management Teams should also be instituted before any crisis takes place."
If an attack were to occur, HR should also be prepared to help employees through the aftermath, Shaw said.
"An employer's response to a tragic event can go a long way towards making employees feel safe again."