One social enterprise is using team building workshops as a way for companies to understand the importance of an inclusive workplace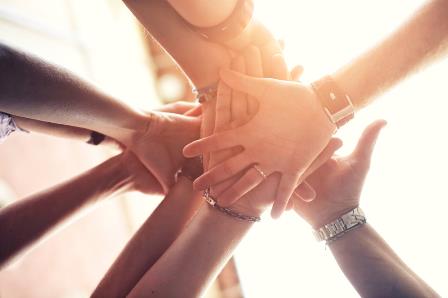 Most organisations use team building workshops to enhance learning and for teams to improve their morale and productivity.
But one social enterprise is using the tried and true method to not only teach employees valuable skills but to also encourage firms to be more inclusive.
Society Staples
is run by two young entrepreneurs, Ryan Ng and Debra Lam, where they run immersive team-building workshops that put participants in the shoes of persons with disabilities (PWDs).
"Our team-building workshops are quite a unique experience where we allow participants to immerse themselves in the shoes of a PWD," said Ng.
"And through that they would not only understand what the daily difficulties a PWD lives with but they would also understand how communication is vital especially when working with a team and how empathy could actually help them get things done faster."
One skill that participants can improve on at their workshops is communication because, according to Ng, in the workplace, it is necessary to communicate ideas and goals in a concise manner.
But putting yourself in the shoes of a deaf or blind person adds a different dimension to the exercise, he said.
The goal of each workshop, he added, is to show participants that it doesn't take much to include a PWD in an office setting.
"For example, participants can learn that you don't need sign language to communicate with a deaf person. You can take a piece of paper and write on it, or you can use the office chat system to communicate," he said.
Most PWDs are not asking for special treatment, he said, most just want 'equal treatment' in that they would like a chance to at least get their foot in the door.
"We do have a lot of friends who are PWDs and because they wrote down their disability in their application, they were turned away at the receptionist," he claimed.
How the workshop is run
A workshop run by Society Staples begins in a classroom setting where the facilitator – usually a PWD – would share their life experiences.
This is then followed by a session where participants are encouraged to experience what it's like to be a PWD through simulations such as blindfolds and hearing impairment tools, in order for them "to learn what they need to improve on in how better to work with a team".
While they do follow a format, workshops can also be tweaked to fit the client's need and the venue of choice.
"We check out the venue before we start the workshops to see what tools we can use in order to make the sessions more engaging for participants," he said.
Currently, each session runs for three hours but feedback from past participants has Ng and his team considering longer hours.
"They wished to have it longer or for us to go more in-depth with certain areas so they could experience more as well," he said.
"Awareness for more PWDs in the workplace has been increasing but generally, there's still much to be done."
"There's still a need for firms to be more open in hiring PWDs because they may be limited in one aspect but it doesn't mean that they are not able to do well in other aspects," he concluded.
Related stories:
How to be a 'Company of Good'
Spotlight on PWDs in the workplace
Why you should encourage 'skills-based volunteerism'