In the wake of the deadly bomb blasts in Jakarta yesterday, Singapore businesses with branches in the area brought in increased safety measures for their staff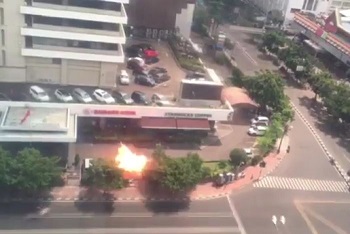 After the Jakarta bombings yesterday (14 January), Singapore businesses with local branches took a number of steps to ensure the safety of their employees.
A United Overseas Bank (UOB) spokesperson told
TODAY
they had shut down branches in Tebet, Kuningan, Mamping and Wahid because of their "proximity to the bombing site". The branches are said to resume operations today.
The bank also advised staff working in the Jakarta and Greater Jakarta areas to remain within their offices until the all clear had been given and the situation deemed safe.
TODAY
also talked to Kenneth Rogers, regional manager for Ascott in Indonesia and Australia. At the company's serviced residences in Jakarta, security was increased and both employees and guests were given constant updates about the situation.
"For our employees' safety and convenience, we have also set aside some apartments at our properties to accommodate them, should it become necessary," he said.
Ascott has five serviced apartments within the capital, including Ascott Jakarta which is a mere ten minute drive from the site of the bombings.
At OCBC's two subsidiaries in Jakarta – Bank OCBC NISP and OCBC Sekuritas – the company implemented a number of safety measures including telling employees to stay indoors and away from the windows, Patrick Chew, head of operational risk management, told
TODAY
.
Additionally, all non-essential travel by OSBC employees has been suspended temporarily.
Related stories:
3,000 workplace safety experts to gather in Singapore
How safe are Singapore's workplaces?
Firms combat haze risk with creative staff policies