With the government announcing the 2016 Budget today, we asked the experts about their predictions for the coming year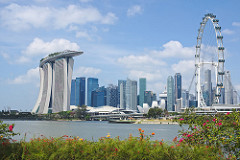 As Budget 2016 is set to be delivered today, Singapore employers may soon have to deal a number of new measures. We talked to three experts about what they thought this year's Budget would contain and how this would affect business.
Prudent measures
"With regards to assistance for employers in Singapore, we are likely to see an economic-centric Budget," said Eugene Tan, associate professor of law and co-director of the Centre for Scholars' Development at
Singapore Management University
(SMU).
"We can expect measures aimed at not just helping firms cope with short-term challenges, but also find medium-term growth opportunities too."
He stressed however that while the budget may offer financial relief for employers, it will not detract from the government's long-term narrative of urgent business restructuring.
As Finance Minister
Heng Swee Keat
has indicated this will be a "prudent" Budget, this means the government will not be the "proverbial knight in shining armour" to businesses, Tan said. In fact, it may result in some companies going under, he added.
"The intent is not going to keep the weakest companies on life support and stave off the inevitability of painful and urgent restructuring, It may well be that we might see the basic support being inadequate for the weakest companies, resulting in their closures and exit from the economy."
Bridging past and future
Tan also predicts that the budget will likely build on SkillsFuture – last year's blockbuster initiative.
"SkillsFuture is an important policy nudge and effort will have to be concentrated on affecting a mindset change towards lifelong learning."
"As I see it, it is not so much about pumping in more money but rather how to enable SkillsFuture to become a movement (as opposed to a policy or program)," he said. "SkillsFuture cannot just be seen as an expense account to be drawn down."
The fact that this is Heng's first Budget is also of interest, he said.
"Perhaps we can expect novel approaches and fresh insights as well as bold moves in the Budget."
This Budget may also be the template for future ones under Heng, he added: "As this is the first Budget since last September's general elections, it will set the stage for future Budgets in this term of government. Aligning expectations is something that this Budget will have to address."
A move towards resolution
Adding to the discussion, Susan de Silva and Goh Seow Hui, partners at Bird & Bird in Singapore, said there was one thing on their Budget Wish List: financial incentives for mediation as a form of early dispute resolution for the workplace.
"The proposed new Employment Claims Tribunal (ECT) has brought renewed focus to mediation as a form of early dispute resolution for salary-related claims before they are brought to the ECT," they said.
Assistance in this area would provide a range of benefits for business, staff and the government.
Government subsidies could be used to cover training costs (so HR staff can handle grievance handling and formal mediation). The costs of taking a workplace dispute for early resolution via mediation could also be covered.
"This would help both employers and employees access the many legal, social and business benefits of mediation as a very 'human' way of resolving disputes for human resource issues."
Goh and de Silva gave two examples of international government incentives for businesses with regards to mediation and workplace disputes.
In England, ACAS (Advisory, Conciliation and Arbitration Service) provides free conciliation for early resolution of workplace disputes.
In Australia, ADRAS (Alternative Dispute Resolution Assistance Scheme) provides government subsidies of up to S$1,500 towards the cost of private alternative dispute resolution services at the workplace.
Related stories:
Government may abolish foreign worker levy hikes
MOM's new dispute tribunal: What you need to know
Singapore's labour laws: Can the government do more?