A series of workplace enhancements will be implemented to reduce the airport's labour dependence and boost efficiency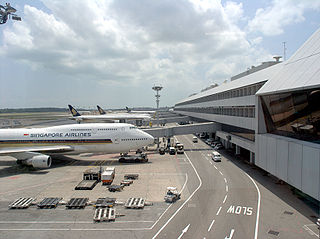 Two workplace initiatives aimed at boosting productivity at Changi Airport have been announced by the Civil Aviation Authority of Singapore (CAAS).
As well as encouraging the further adoption of technology, the CAAS also hopes to reduce the airport's dependence on its human resources.
"As we face an increasingly challenging aviation landscape, CAAS is committed to driving greater airport innovation and operational efficiency," said CAAS director-general Kevin Shum in a statement on Friday (1 June).
"This will ensure continual delivery of high service standards at Changi and help uphold its hub competitiveness."
Communication sans wires
CAAS and Changi Airport Group (CAG) will invest over $20m in the Smart Apron initiative over the next six years. Through this plan, CAG will install an airport-wide wireless communication network in the apron area – the zone where aeroplanes park on the asphalt.
The 190 hectare area – nearly twice the size of Gardens by the Bay – will boost productivity through mobile devices given to ground staff. Through these, employees will have access to real-time data and work instructions, reducing search time while simultaneously increasing response time.
Track and trace technology will also give ground staff real-time visibility over where vehicles and equipment are located in the apron area.
It is hoped that the number of mobile devices will be increase from the current number of less than 1,000 to more than 3,500 in the future. Around 5,000 staff will eventually benefit from the Smart Apron initiative.
"CAG has been consulting closely with our partners to map out their needs based on a broader Wi-Fi scope at the airside. This will realise greater efficiencies in existing areas such as aircraft servicing, while enabling new capabilities like location tracking and video streaming," said Lee Seow Hiang, CEO of CAG.
Do it yourself check-ins
Within the terminal, CAAS aims to further reduce the airport's labour dependence through the adoption of self-service passenger processes.
Entitled the Fast and Seamless Travel (FAST) Fund, this will award grants between $400,000 and $2.5m to airlines which implement self-service platforms such as check-in kiosks, bag drop systems and self-boarding gates.
The new scheme will offer three times the funding as the previous Passenger Self Service Programme (PSAP) which was launched in 2013.
CAAS hopes this financial support will improve employee productivity and passenger handling capacity. Around 2,000 passenger service agents will benefit from the job redesign that emerges from the FAST Fund.
"The funding support CAAS has committed for the two programs will augment CAG's ongoing efforts at enhancing operational efficiencies and passenger convenience at Changi Airport," said Lee.
Image: Changi Airport, Singapore by J. Petersen / GFDL / CC-BY-SA-3.0
Related stories:
Changi Airport Group: The ultimate staff destination
Why Marina Bay Sands is hiring Intellibots
Why your staff may soon lead a "fleet of robots"