With all the advantages of SG's growing contingent workforce come a few risks too. Here's what to look out for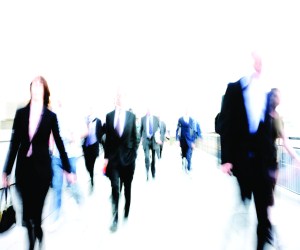 In 2016, the Singaporean government estimated roughly 200,000 freelancers in the local workforce. According to advisory firm Willis Towers Watson, these workers will see a 59% growth in labour force share over the next three years. Increasingly, contingent or contract workers are becoming a go-to solution for firms looking for a workforce that's both agile and economic.
But with these advantages come a few risks as well. We spoke with Camilla de Villiers, Managing Director, Asia Pacific of HireRight, about how firms can make the most of Singapore's growing contingent workforce.
In light of the growing number of contingent workers in Singapore, especially in the tech sector, how can firms make the most of these resourcing opportunities, without compromising the security of their organisation?
Whilst there are many opportunities and benefits associated with leveraging freelance or contract talent, it also comes with its challenges. From a background screening perspective, many companies simply overlook their freelance or contract talent unless or until those individuals may become a permanent hire. Organisations should however attempt to mitigate possible risks associated with freelance or contract talent, and clearly background screening is one mechanism for doing so – to help ensure the person has the necessary credentials and experience to perform the role they are being considered for. Contract workers often have the same access to office premises, potentially confidential information, and systems or networks across the firm as would a permanent employee. Of course, they also become co-workers.
According to HireRight's 2017 APAC Employment Screening Benchmark Report, whilst seven in ten APAC companies said they are familiar with the screening procedures for contract workers, only 25% actually perform background screening on these workers. Further, 19% of organisations surveyed across the region indicated that more than 40% of their workforce comprised temporary positions. Choosing not to include temporary workers in your background screening program as is relevant to these roles, is therefore a potential blind spot that could expose your people, your assets and your firm's reputation to risk.
Given the faster turnover of these workers, how is the screening process different here?
The screening process should not necessarily differ from that of a full-time employee. Depending upon the role being hired for, it's important to consider the level of responsibility and associated risk, and to then devise an appropriate background screening program for these candidates. The more robust your program, the better you can be at lowering the risks associated with a candidate, particularly as it pertains to their past experience and skill set, their formal qualifications, and any physical risk they might pose to your assets, including other employees.
From a hiring perspective, what are the main concerns a firm should be mindful of when taking in these contingent workers?
From the background checks HireRight performed in Asia Pacific in 2016, we found that more than one in five (21.5%) identified inaccuracies in the information supplied by candidates. As such, it's important that companies continue to perform background checks on candidates, regardless of their level of seniority or employment status. Whilst candidates will always claim to have the skills to perform their jobs, verifying this through a proper background screening processes, especially when the candidate might be expected to fulfil a specific role and/or accomplish specific tasks in a short amount of time, will certainly help mitigate potential risks for the organisation. Companies should also not simply assume that their recruitment agency has already performed the necessary background checks on the candidate.
Consistency in approach to on-boarding talent into an organisation can also be important to ensure a fair and level playing field, and to nurture or develop corporate culture aspirations. In the case of freelance or contract workers, this can also help them feel more integrated and engaged, driving overall performance and job satisfaction.
Related stories:
How contracting can help your firm ramp up, while keeping lean
Are you losing job candidates to bad background check systems?