Singapore – and Asia - continues to play host to a greater number of senior HR roles, according to a managing director of an executive search firm.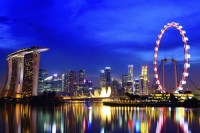 Singapore – and Asia - continues to play host to a greater number of senior HR roles, as global companies target Asian emerging markets.

A managing director of Chapman Consulting Group, Ben Davies, told HRD Singapore that regional and international HR roles in Asia continued to grow.

The global executive search firm, headquartered in Singapore, is seeing global companies continue to choose to base senior HR executives on the ground in the region.

""We are seeing more progressive companies wanting to have someone with their finger on the pulse in Asia, rather than having them cover an emerging market from somewhere like New York or London."

This is creating opportunities not only for imported foreign HR talent in the region.

"It's creating career opportunities for Asian and local talent in Singapore, as there are more regional roles being created and potential international opportunities as well," Davies said.

The first quarter of 2015 has seen companies continue to focus new investment in talent management and learning and development (L&D) roles.

"For many there's been a gap between the HR business partner and traditional L&D roles; we've seen companies invest in talent management roles in Singapore and in Southeast Asia."

Chapman Consulting Group has witnessed a slight uptick in financial services HR roles in the first quarter, though pharmaceuticals, media and consumer goods all remain active.

Davies said that, should companies wish to hire top HR talent, they will still need to be offering a premium on existing salaries.

"If you want the best talent as usual there is a premium to be paid; I think people aren't looking to move out of positions as much as they were two or three years ago, and people expect a fair increment to move if they are happy and challenged in their current role."

For HR professionals lucky enough to be based in Singapore, Davies said the opportunities for the rest of the year look promising.

"Once the pay review cycle is done by April, there might be a bit more movement as people gain clear sight of the year to come."

"I think the outlook is good for local HR talent; if you compare Singapore to Hong Kong, there is a greater breadth in industries and markets, where Hong Kong can be more North Asia/China-centric. Singapore is one of the strongest locations in Asia for a regional career in HR." Davies said.