After being arrested for protesting at the Ministry of Manpower last month, a couple has faced court and has had their sentences delivered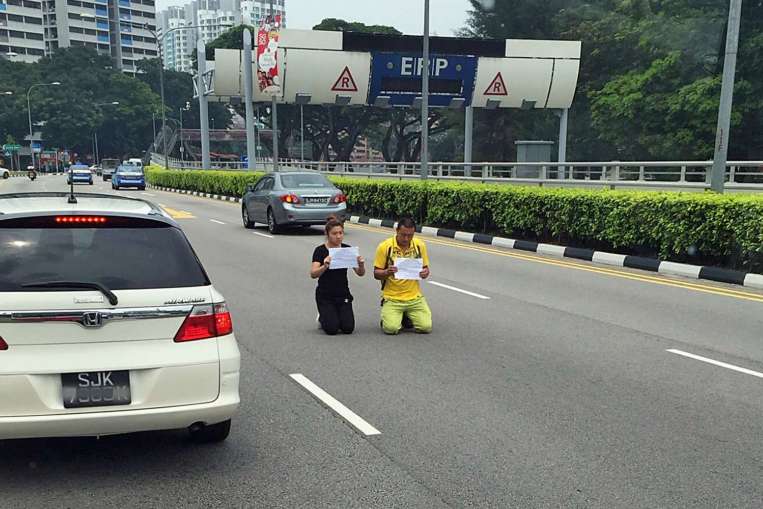 The couple who were spotted
kneeling outside the Ministry of Manpower (MOM) Services Centre
last month have each been sentenced to five weeks in jail.
Facing court, the protesters, both Chinese nationals, admitted to committing a "life-endangering rash act" on Bendemeer Road on 24 August. They also pleaded guilty to trespassing in the MOM building by remaining in the foyer despite being asked to leave.
Bao Weilong and his wife, Yang Xuemei, visited the Services Centre to get a refund for the S$6,000 Yang had paid to an agent in China prior to coming to Singapore for work.
After a customer service officer told the pair that the Ministry could not offer them a refund, they went to the foyer and knelt. They each held papers with Chinese characters that said Yang had been cheated by her agent and asked for help from the relevant Ministry departments.
Three staff then brought the couple back into a meeting room where further discussions were held. They failed to reach a settlement however. The pair then went to pavement outside the MOM building where they knelt down again. They were seen to be crying.
Security staff persuaded the duo to return to the meeting room. A third round of talks was held and Yang's local agent was contacted. The Ministry then promised to refund half of Yang's total agent fees.
At this point, Bao told Yang not to waste their time any further and to "carry out Plan B". They left the Centre and knelt down in the middle of Bendemeer Road where passing motorists hooted their horns and shouted at them to get out of the way.
Security guards tried to persuade the pair to move off the road but they refused. Staff then had to direct traffic around the protesters. They were finally pulled off the road and taken back to the Services Centre where they were arrested.
In a statement yesterday, MOM said it took a serious view of foreigners breaking the law in Singapore. Those caught would have their work passes revoked, be convicted and jailed, and be permanently barred from working in Singapore again.
Related stories:
Kneeling MOM protesters arrested
Protesters take to streets in SE Asia
Reddit CEO facing revolt