Japan's richest man, who founded global clothing-giant Uniqlo, says fear of failure is a key obstacle to success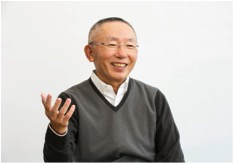 Tadashi Yanai, the founder and chief executive of Asia's largest clothing retailer, Fast Retailing, and Japan's richest man, has said that he "understands failure completely".
Yanai built clothing brand Uniqlo – which his company Fast Retailing is parent to – from a single store in Hiroshima to a global giant and the fourth-largest clothing retailer in the world.
But despite his incredible accomplishments, 67 year-old Yanai says his life philosophy is "nine failures, one success".
Whilst Uniqlo now enjoys enormous success in countries around the world, and is China's number one retailer, Yanai told
Channel News Asia
that this wasn't always the case.
"When (Uniqlo was) expanding overseas, we failed in Britain, right? We failed in China. We failed again in America," he said in the interview, speaking of Uniqlo's move in 2001 to open 21 stores in the UK in just two years – which ended in 16 of them being closed.
Now, however, Uniqlo opens a new store somewhere in the world every week, and Yanai says his vision is to make Fast Retailing the "number one" clothing retailer in the world by 2020.
"There's no option for us to say that at the Olympics, we're just aiming for the bronze medal. We don't say that," he said.
"We want to do our very best to get the gold medal."
Yanai, who is clearly not easily deterred, spoke of the tendency for fear of failure to become an obstacle. He said, "people are quite afraid of failures, so they don't succeed."
Speaking of succession, he stressed that right now he does not "need a successor who is like me", but that his job could not be done alone.
"Therefore, ideally, I would want to form a team to split all this work up with a good CEO, and this person will continue to direct operations," he said.
"I want to know if my team of successors can do a good job as soon as possible.
"I hope they could assume the role of protecting the company's interests."
Related stories:
5 skills that distinguish a great HR leader from a good one
"All incidents are preventable": WSH chairman
North Korean workers 'fed meth to speed up work'