Job satisfaction is high among women in HR but they still lack influence in the boardroom, according to a new report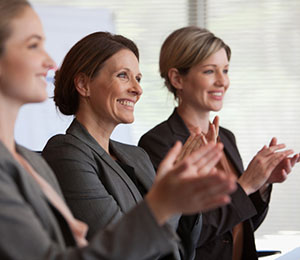 Are women just "drinking the company Kool-Aid" when they say HR ranks in the top five careers for women?
Job site Fairygodboss has just released the results from its new survey and its CEO and founder Georgene Huang believes so.
"I was skeptical at first. After all, on an anonymous employee review site, HR women might be overly optimistic in reporting their workplace experiences," she wrote in Forbes.
"But when I actually read through the job reviews, it was clear that most women in HR were answering in a very personal way."
Huang said that women in HR reported high scores in terms of job satisfaction, giving it an average 3.7 out of five.
One reason women in HR say they're satisfied is because they're surrounded by other women.
"Two thirds say they feel they experience gender equality. While that's (quite) far from 100%, it's much better than the average woman's experience, where only 55% of women say they think they're treated equally to men on the job," she said.
Additionally, HR is the only department "where women hold at least 50% of the C-suite level positions", providing more role models for female junior employees.
Compensation might also be a reason women in HR are happy, reporting that their income is approximately double that of the average US worker, said Huang.
But there are downsides to the profession as well, she said.
Some women still report a "boys club" culture within their organisation, which hinders their ability to network within the C-suite.
It also hinders their ability to address gender diversity and equality issues within the company.
"Unfortunately, most women in HR don't feel empowered to improve gender equality at their companies even when they see room for improvement," she said.
"For many HR professionals, influence over company gender equality issues seem to be limited."
Two reasons Huang gives for this phenomenon is that some jobs in HR are specifically focused i.e recruitment or learning and development only or it might also be because "junior level employees simply don't have enough influence".
"To drive change in employer culture and policies, it's obvious that the highest levels of management need to be on board," she said.
"Women in HR may be happier than most, but they will need more support and authority to act if they're going to be successful in helping other women be as happy as they are."
Related stories:
How HR can break into the C-suite
Men believe women are represented fairly in business: Report
Singapore's boardrooms need more women: DAC