Hoping to climb up that next rung on the career ladder? Certified master resume writer Kylie Chown shares her tips for creating a CV to take you to the next level.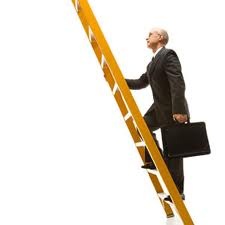 As a master resume writer, a common theme I hear from new clients is that although their resume used to work well for them in the past, they are now struggling to get an interview.
This is particularly an issue when the client is looking to step up to the next level in their career – for example, moving up to a management position.
It doesn't matter what industry you are in, when writing a resume to step up to the next career level, you need to focus on the three Rs – Research, Relevant and Rich Content.
This will ensure that your resume stands out from the competition and gets you to the all-important interview.
Research: Know the job you want
By researching and clearly identifying the job you want, you will be in a stronger position to target your application to meet the recruiters' exact requirements.
Then identify key words to use in your resume that will speak to the recruiter in the same language that they are using. This is also known as the "match and mirror" technique.
The introduction of key words allows you to meet the needs of Application Tracking Systems (ATS). These are common software applications that enable the electronic handling of recruitment processes.
Unfortunately, if you don't have the correct key words in your resume, the ATS will "throw out" your resume, making it a real barrier for people looking to step up into their next role.
Make sure that you research the company you are hoping to work for and their values, missions and goals. By doing this you can align your soft skills (these are your behavioural competencies) with that of the company. This will support your positioning as a good fit with the organisational culture and values.
Relevant: Write for the job you want
"Write for the job you want not the job you have" is really the key in this situation.
Whether you are a HR officer looking to apply for a HR manager role, a financial controller looking at a chief financial officer role or an operations manager looking to more into a general manager's role, the same applies – focus your resume on where you are looking to go moving forward, rather than where you are now.
Your resume needs to communicate the key value proposition clearly, quickly and succinctly. It's a bit like telling a recruiter how great you are at financial reporting when the role is focussed on strategic leadership – you are just not meeting their needs clearly enough.
By making sure that the content in your resume is directly relevant to the role you are applying for, you mitigate the risk of your document being diluted with irrelevant space fillers.
Rich Content: Shows that you can do the job you want
Rich content is based on strong, outcome-focussed statements. At this level, your competitors will have a similar skill set or even direct experience in a similar role.
Therefore, you need to stand out with rich and meaningful content. An effective way to do this is CAR – Challenge, Action and Result.
Think about a challenging situation, what actions you undertook and the result was. Action verbs are also great to use here as they can highlight the behaviours that drove the successes.
If you have done any training or development to support taking the next step, make sure that this is highlighted.
Ensure that your resume has great formatting to make a lasting impression and stand out from the crowded market. Testimonials can also be useful here especially when they are complimenting the behavioural requirements of the role that is being applied for.
A lot of clients I see strive to take the next step in their careers and they most often have the skill attributes and attitude required. By focusing on writing for the job they want, they can seamlessly take the next step in their exciting career.
Kylie Chown is a certified master resume writer, LinkedIn profile writer and consultant. Her expertise lies in assisting executives to ignite their career and elevate their online and offline presence. For more information, see www.kyliechown.com.au.