'Employees who lack a strong sense of belonging are five times as likely to be looking for another job'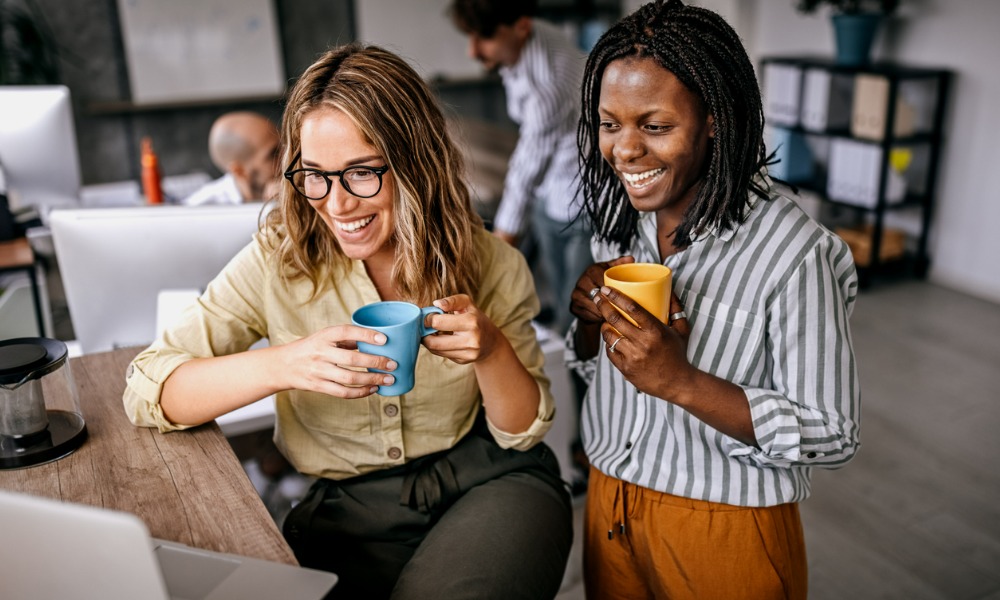 The great resignation is showing no signs of let-up as turnover rates are higher than they were last year.
Forty-two per cent of U.S. employers say the number of workers walking out the door is even higher today than it was before the pandemic — with another 25 per cent saying it is much higher, according to e-learning company MindEdge and credentialing body HRCI.
"Coping with this turnover is not an easy task: fully 82 per cent of HR professionals shared that finding replacements for departing workers is difficult, including 26 per cent who said that finding new workers is very difficult," says the report.
Nearly all (97 per cent) employers note that their organization is taking on new employees, with 54 per cent hiring at a faster rate than before the pandemic.
More than one in three (35 per cent) say turnover has increased compared to last year.
Losing workers to competitors (68 per cent) is the biggest reason for the high turnover, finds the report based on a survey of more than 1,000 professionals in the U.S. conducted in October.
Employee burnout (48 per cent) is also forcing people out while younger workers leaving because they are dissatisfied with traditional work arrangements (41 per cent).
Employees also leave because they choose to retire (20 per cent) or they do not want to be exposed to COVID (13 per cent). Meanwhile, female workers are choosing to resign to take care of their families during the pandemic (19 per cent).
Power of recognition
With these stark numbers in mind, many employers are wondering: how do we keep our people onboard?
One effort that seems to work, according to new research, is showing the workforce just how much they are appreciated.
A study, done by Gallup and Workhuman, headquartered in Dublin and Framingham, Mass., found that when employees are recognized at work, they are 10 times as likely to strongly agree that they belong in an organization.
"Employees who lack a strong sense of belonging are 12 times as likely to be disengaged, and five times as likely to be looking for another job," says Meisha-ann Martin, senior director, people analytics and research, at Workhuman in Austin, Texas.
An organization of 10,000 people can also save up to $60 million by improving its recognition practices, says Martin.
"When you [put] performance and wellbeing into the mix, low wellbeing and the effect that it has on performance can cost an organization $20 million for every 10,000 workers so it works both ways."
In addition, employees are up to 90 per cent less likely to report being burned out at work, found the survey.
"If you use recognition to improve wellbeing, performance improves, and people also are more likely to stay, so you get that nice, combined ROI there," she says.
Presents for all!
With the holiday season approaching, corporate gift-giving is another way to keep employees happy.
For Best Buy Business, creating a Corporate Gifting Program to help companies recognize their teams and clients was a no-brainer.
"Our employees work hard and care deeply for the company and our mission to connect people in meaningful work," says Cassandra Sturk, office administrator at Ian Martin.
"Recognition is a part of the consistent behaviours and actions that we as an organization can take to continually show appreciation for our people. Our corporate gifting program is one part of that consistent appreciation."
Research has shown that employee incentive programs can lead to impressive results for employers, such as lower turnover rates, increased productivity and improved workplace culture. A thoughtful corporate gifting program has become an essential part of most companies' employee retention strategies.
All about belonging
Besides thanking workers for their service, they need to feel even closer to the organization, says Arianna Huffington, founder of the Huffington Post and Thrive Global.
"Belonging plays a crucial role in culture: when people don't feel a sense of belonging at work, it takes a real toll – both on employees and on the organization. First, there's the human toll. Encountering discrimination and racism is associated with many physical and mental health effects, including higher stress, poor cognitive function, anxiety, depression, and substance abuse."
Then, there's the toll on organizations, she says, citing a recent study by McKinsey about why people leave their jobs.
"First, they don't feel valued by their organization; second, they don't feel valued by their manager; and third, they don't feel a sense of belonging at work."