One executive coach says the beginning of the year is when top performers often quit. Here's how you can prevent that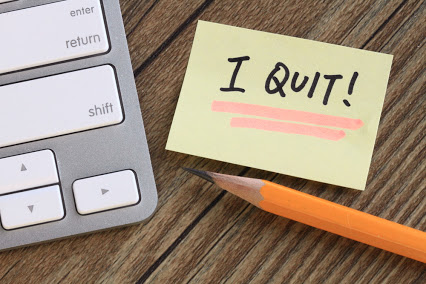 Most employees would unexpectedly resign before giving you feedback on what is wrong or what they want from the company, said executive coach and author, Christine Comaford.
She said before this happens, employers need to be aware of certain red flag behaviours:
1) They miss deadlines and their once high productivity and accountability drops significantly;
2) The communication stops and they isolate themselves, often delaying replying to emails (or not at all);
3) They are showing general negative attitude at work such as blaming or bullying other workers;
4) There is a drastic change in their physical appearance;
5) Team members approach you directly concerning your top performer's attitude and behaviour.
While it may be easy to dismiss a team member's concern as office gossip, Comaford said it is better to investigate these claims and to check in with your top performer.
"Check in before your top performers check out," she wrote at Forbes.
"All of these factors equal disengagement and that is the core of knowing that someone is ready to jump ship," she added.
So how do you know when to retain them or let them go?
In what she calls a '7 Step Feedback Frame', Comaford said that what is essential is that you "come from caring, listening, first finding out if the person wants to stay and then forgoing a go-forward plan".
1)
Set the stage
– Explain the purpose of the discussion and see if you can pinpoint if it is something external or internal that is causing the disengagement;
2)
Cite specific behaviour
– Provide them with particular instances in which they showed alarming behaviour;
3)
Describe impact
– Explain how their behaviour affected the team, the company, and their work;
4)
Check problem acknowledgment
– An essential step, this is where you both acknowledge that the employee is going through a problem. If you cannot come to an agreement on this, Comaford said to go back to the first step until you do.
5)
Co-create a plan
– Create a specific plan detailing the outcomes you need to see and the consequences if those outcomes are not met. Ensure as well that you have set a time period on how often you plan to check in with the employee on their progress;
6)
Check understanding
– Similar to the fourth step, this ensures that you are both standing on common ground;
7)
Build small agreements
– Green light the plan and don't forget to check in regularly, she said.
Related stories:
What you can do about the 'sophomore slump'
How to get the most out of your HiPos
Three mistakes that can devastate your HIPO development