Glassdoor may cause problems for some employers but one Singapore firm has managed to earn a near-perfect score on the site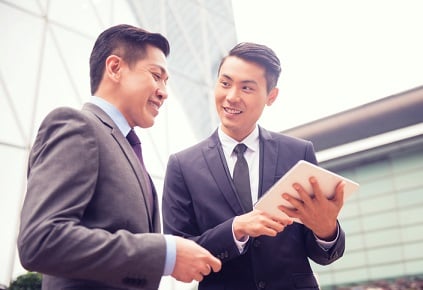 Thanks to review site Glassdoor, employees now have the ability to voice their concerns on a very public platform and some organisations have discovered some unpleasant home truths as a result.
However, not all employers have been side-swiped by unexpected feedback – in fact, one Singapore organisation has managed to earn near-perfect responses from every online reviewer.
With a rating of 4.8 stars, security software firm CashShield has achieved one of Singapore's highest employer ratings – an accomplishment HR head Pua Chiu Yee says is largely thanks to a strong company culture and tight-knit team.
"We believe in having an inclusive and collaborative working culture, treating our employees as family, respecting each other and working together closely across different departments and functions," says Pua.
"We keep the company hierarchy relatively flat, allowing everyone to work together in a collaborative manner and progress together with the company," she continues. "There are no walls; anyone can speak and all are treated equally."
Defining the company's culture as open, cohesive, and familial, Pua said employees and leaders within the organisation have a strong respect for one another and are happy to help.
"Such cohesiveness extends beyond work to personal matters, where employees see each other not just as colleagues, but as friends who can hang out after work or on weekends, share personal stories and woes with and engage in similar hobbies together," said Pua.
CashShield also has an equal male to female ratio amongst both the management and the employees – something which is incredibly rare, especially in tech companies.
"This definitely extends to help foster a feeling of equality amongst all in the company, with no preferential treatment or biases," said Pua.
So, how did the organisation manage to build such an enviable – and effective – company culture?
"We build a culture based on a balance of trust, a time for seriousness and a time for fun; which is rather challenging as this often needs to be communicated clearly and in the right manner," says Pua.
"Through this culture that we like to build, we ensure that adequate empowerment is given to each individual. This way, the employees will feel a sense of trust and responsibility when making a decision."
Pua says the HR team has a particularly important role to play in this – something every member must be aware of at all times.
"Being in the HR department, we constantly remind ourselves that we are the bridge between the management and employees; and to create this trust, we must give employees the assurance that we are one where they can entrust us with problems they face at work," she tells HRD.
"Furthermore, we ensure that the culture is built and maintained through understanding their needs and giving them the guidance in how they can resolve problems they may face during work through active listening and asking them questions.
"We also encourage a culture of providing constructive feedback within the organisation as this will help individual to understand how they can better improve themselves and learn together as a whole."
Finally, the organisation puts a conscious effort into regularly connecting employees on a social basis – including company lunches, birthday celebrations, playing sports and team games.
"It would probably seem incredible that work regularly ends early on Fridays so that we can play sports or games, but we believe that this is important for everyone to create and develop deeper bonds with each other," says Pua.
Related stories:
Would you spy on your employees?
How can you tell if an employee has high potential?