The family of a soldier who died during an exercise which flouted safety regulations is suing the Armed Forces for over $250,000.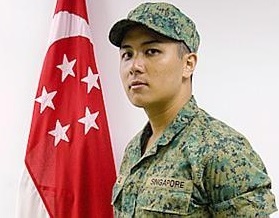 The family of a soldier who died during a smoke grenade exercise is suing the Singapore Armed Forces for (SAF) to the tune of over $250,000 for failing to provide a safe training environment.

The crux of the family's argument is the fact there were six smoke grenades used during the exercise, when safety regulations dictate there be a maximum of two.

National Serviceman Private Lee Rui Feng Dominique Sarron, 21, was undergoing training at the Murai Urban Training Facility at Lim Chu Kang in 2012 when he passed out while suffering breathing difficulties during the smoke grenade exercise.

He was pronounced dead at National University Hospital two hours later.
A coroner's inquiry in 2013 found he died from an acute allergic reaction to zinc chloride, a key component in smoke grenades.

His family have filed a suit in the High Court seeking damages over $250,000, including $34,300 for Lee's tombstone.

Filed by lawyer Irving Choh, the plaintiff in the suit has been listed as the estate of Lee, while the Attorney-General is named as a party in the suit, to defend the SAF. A pre-trial conference is due next month.

Lee's former platoon commander and the exercise's chief safety officer at the time are also being sued for negligence.

Court papers revealed Captain Najib Hanuk Muhamad Jalal, platoon commander at the time, and chief safety officer, Captain Chia Thye Siong, allegedly contributed to Lee's death.

It is claimed that the officers were duty-bound to ensure safety regulations were followed.

State Coroner Imran Abdul Hamid endorsed the findings of an independent Committee of Inquiry in the year of Lee's death, which said the number of grenades used in the exercise exceeded the limit prescribed by safety regulations.

Another factor was Lee's asthma, which his superiors were aware of due to the blue band around his arm indicating his condition.

Lee was diagnosed with asthma prior to enlisting in November 2011, and the coroner noted the young soldier had "underplayed and underdeclared" his asthma history during a pre-enlistment medical check-up, in which he failed to mention his latest attack.

According to the suit, the SAF had a duty to provide a safe and conducive environment for Pte Lee to train in.

This includes providing adequate protective gear for national servicemen during exercises that involve the detonation of smoke grenades.

Among other things, it is claimed that the SAF failed to provide a sufficient system of checks to ensure compliance with regulations.
In the wake of Lee's death, SAF tightened safety checks and set up an Army Safety Review Board.

Singapore Courts have developed a 'golden rule' around duty of care, established in the Court of Appeal case Chandran a/l Subbiah v Dockers Marine Pte Ltd: employers ought to take reasonable care for the safety of their employees.

This is reiterated by the goals of the Workplace Safety and Health Council and MOM for Singapore to be a role model in health and safety at work by 2018, with the aim of reducing the national fatality rate to less than 1.8% per 100,000 workers by then.