Save yourself the cost of replacing a prized employee who's left by boosting overall satisfaction levels with these four simple techniques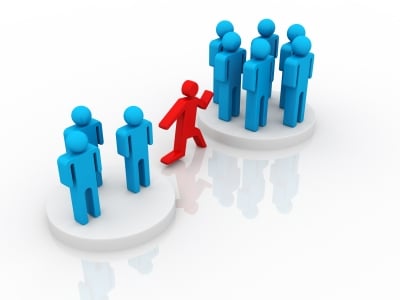 There is no doubt that turnover costs business a pretty penny. For an entry level employee, it can cost between 30 and 50 per cent of their salary to replace them while senior and highly specialised staff can cost upwards of 400 per cent.
In a post for
Business Insider
, Darius Fisher, president and co-founder of Status Labs, provides four techniques to increase employee job satisfaction and reduce turnover as a result.
Create incentivised goals for staff
The simple idea of a treat can go a long way in motivating employees, he says. While your company may not have the budget for extras such as music festival passes or overseas holidays, even offering something like an extra day of leave can help.
"Find out what your employees see as an added value and start from there," he says. "Part of incentivising people is identifying what makes them happy."
Acknowledge accomplishments regularly
When an employee closes a big sale, finishes a complex project or produces other similarly excellent results for the business, make a point to congratulate them publicly. Sending a message to the entire company can be a great way to recognise their hard work.
"Giving positive recognition is a small gesture that has a massive impact on morale," he writes.
Make sure staff members are in the loop
One of the worst things an employer can do is keep their staff in the dark, Fisher says. Drawing from past experience, he says workers would usually complain if they were the last to know about new developments, hires, business milestones, etc.
"To combat that, we instituted a monthly company newsletter where we introduce new members of our team, highlight big wins, and share any other pertinent company news."
He would also hold monthly meetings were he would personally update staff and take any questions that they had. "This resonates positively by ensuring everyone feels like part of the team and stays in-the-know," he adds.
Offer ample raises on a regular basis
When an employee leaves a firm, they can expect a pay rise of 10 to 20 per cent at their next workplace, Fisher writes.
"The prospect of a significant pay increase could be motivation enough for even the most satisfied person to start exploring their career options."
The best way to hold onto a highly valued employee is to offer them a worthwhile raise, he adds.
Additional fun alternatives for reduced turnover
Fisher also recommended the following staff benefits for firms looking to hold onto their prized employees:
Offer "Free Lunch Fridays" with catered lunch brought in from local restaurants
Schedule regular activities out of the office where employees can have fun together
Recognise birthdays by offering a little something to staff on their special day
Nurture creativity by placing local artwork, a library, couches, etc in the office
Related stories:
How one international company maintains a 3% turnover rate
Turnover…on purpose? Why employee shifts should sometimes be encouraged
Employees (still) leave leaders – not organisations