After 35 years on the run, a former Singapore union leader has handed himself in. HRD Singapore looks at what led to his downfall.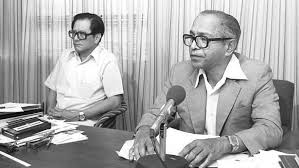 Phey Yew Kok appeared in court last Wednesday after three decades of living as a fugitive.
Once hailed as a man who helped strengthen the foundations of tripartism, the former trade union leader and People's Action Party Member of Parliament came back to Singapore to face corruption charges.
In December 1979 Phey was charged with unlawfully using $17,745 of union funds to buy shares in a supermarket, as well as with four counts of criminal breach of trust involving $82,520.
He was then released on bail, but did not have his passport impounded.
When he failed to show up to court on January 7, 1980, a warrant for his arrest was issued.
Thirty-five years later, 81-year-old Phey turned himself in at the Singapore Embassy in Bangkok, Thailand.
He was swiftly escorted back to Singapore by Corrupt Practices Investigation Bureau (CPIB) officers.
So what went wrong?
In April 1970, Phey was elected NTUC president and, at the age of 35, he was the youngest to ever hold the post.
He was also elected general secretary of the Singapore Industrial Labour Organisation (SILO) and general secretary of the Pioneer Industries Employees' Union (PIEU) that same year.
Two years' later, he was appointed the People's Action Party's MP for Boon Teck Constituency from 1972, a position he held until 1980. He was also appointed NTUC chairman in 1979.
During that time, the Straits Times has reported, Phey was known for using bold methods to attract union members, including gifting six members' homes in 1978 and 1979 as part of a lucky draw, complete with money to furnish the homes.
While Phey was at the helm, SILO became the richest union in Singapore with $7m in assets, followed by PIEU with $4m.
Then in 1979, the CPIB starting investigating Phey.
They uncovered a 1974 transaction where SILO had sold a union car but the money was credited to Phey's account.
When pressed by the CPIB, Phey said it was an error, and that the money had been returned.
But, further investigations revealed that the money was only returned after the initial CPIB inquiry had been made, and that the union's treasurer had fabricated evidence to help Phey cover up the act.
Investigations expanded and on December 1 1979 Phey was arrested.
NTUC announced that that Phey had resigned as secretary-general of PIEU and SILO a week before he was charged with criminal breach of trust and offences related to the alleged misuse of $100,000 of union funds, including the misappropriation of two cheques - for $40,000 and $25,000 - in 1975.
Then in 1978, he was charged with using $18,000 of SILO funds to buy shares in a supermarket without ministerial approval, breaching the Trade Unions Act.
After skipping bail, it was shown he left Singapore for Kuala Lumpur by train on Dec 31, 1979, before heading to Bangkok, leaving a wife and three children in Singapore.
What now?
Responding to media enquiries last week Prime Minister
Lee Hsien Loong
said Phey was now in the hands of the courts.
"This will bring closure to a long outstanding case involving a person who was holding public office as an MP and a senior union leader."
Lee later elaborated in a Facebook post: "We have maintained a clean and non-corrupt system in Singapore for half a century because we have zero tolerance for corruption. When we discover wrongdoing, we do not hesitate to act. We will not allow any cover up, even when it is awkward or embarrassing for the government."