The oldest of this new generation have just entered the workforce – are you prepared to deal with them?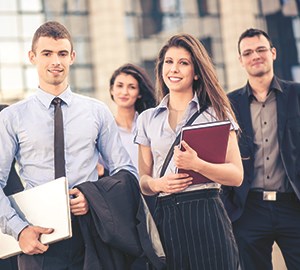 The oldest among the Gen Zs – those born between 1995 and 2012 – are now 22 years old and have just entered the workforce. How different are they from the generations that came before them and how can employers harness their unique qualities and contributions?

This generation reinforces the change in opinions and viewpoints started by the millennials, which forced employers to rethink work, motivation, reward, engagement, commitment and trust, according to an article in The Huffington Post Canada.

So, how can employers keep this new generation engaged? Here are some ways to bring out the best in, attract and retain this dynamic, creative generation:

1. Know where they are coming from.

Gen Zs, like the millennials before them, are outgoing, educated, well-travelled and have high expectations, said Bruce Mayhew, executive trainer and author of the HuffPost story.

They were taught by their parents to be confident, that they are special, and not to settle. Having grown up in a turbulent political and economic environment, they are aware of the risks they face. They know very well how to protect themselves.

2. Get the tech right.

For Gen Zs, The Huffington Post continues, technology is not a bonus. It is an investment in them and in the company's future – and it's one they expect.

They grew up with access to technology tools, and it will be easy to tell if they are falling behind their peers. If they feel they are not given the best technology, they might be considering moving, already.

3. Give them room to be flexible.

Flexibility, for this generation, equates to efficiency. They are at their best while plugged in, doing homework, and connecting with friends.

No wonder modern businesses have embraced open-concept and flexible work spaces – these practices invite creativity and sometimes cross-functional teams.

For their part, Gen Zs are good at blocking out low-priority distractions like people talking, music or white noise. So don't judge them if they wear headphones at work – it's their way of dealing with what's going on.

4. Guard against boredom.

Gen Zs want challenges and excitement in their work. They want to be able to grow for both their own benefit and the benefit of their organization.

Motivate your Gen Z employees by sharing goals and organizing commitments and milestones. Show them you trust them and that you are willing to work with them. In return, they are reluctant to break their trust in you.

5. Keep them accountable.

There will be some difficult conversations with your Gen Z workers – but you should let them know if they have let you or the team down.

If you are able to hold these difficult conversations productively, it will build their respect for you, themselves and the organization. Accountability will tell them what they do is important.

Articulate the following: project expectations and timelines; quality expectations; workplace policies. Provide specific and timely feedback, both constructive and positive.

Finally, The Huffington Post suggests not lingering on past issues once you've made your point and extracted the key lessons.