With smoke from Indonesian fires continuing unabated, here's what some Singaporean firms are doing to protect their workers from the high levels of pollution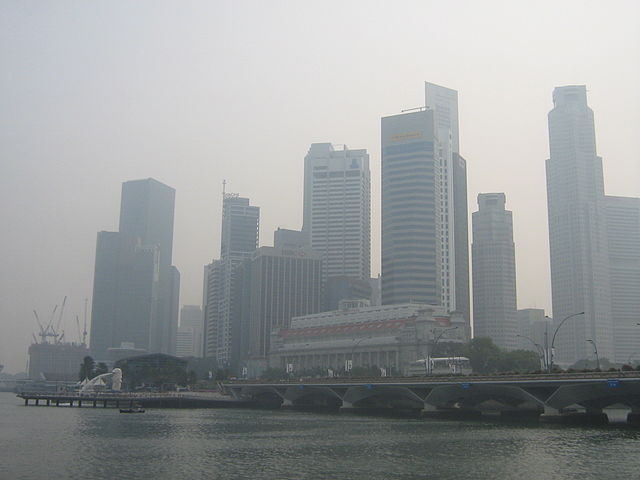 As fires on the island of Sumatra still burn, the haze in Singapore looks to remain at unhealthy levels for a long time to come. This has caused numerous local organisations to rethink their staff health policies and bring in some creative ideas to reduce possible harm.
In a media statement released on Monday (14 Sept),
Yeo Guat Kwang
, director of the workplace safety and health secretariat at the
National Trades Union Congress
(NTUC), advised businesses to think about new strategies to take care of their worker's health.
"Employers are reminded to continually assess haze-related risks and adopt appropriate measures to safeguard the safety and health of their workers, especially those whose work requires them to be outdoors for a majority of the time."
"Discretion should be exercised when deploying workers outdoors, such as ensuring that the appropriate protective gears are issued for outdoor work."
A number of companies have already implemented new methods to protect employees from the unhealthy levels of pollution.
The operations manager and workplace ad health coordinator for Eagle I Security Services, Indhiran Thangaraj, talked to
TODAY
about the issue.
"We are also in the midst of discussion for a split shift – for a worker to be slotted in between another worker's shift," he said. "So instead of a one-hour break, workers get a four-hour break ... [Thus], they will only be working eight hours on the ground instead of the [usual] 12 hours."
The National Taxi Association (NTA) has handed out over 2,500 "haze kits" containing free masks and antiseptic wipes to drivers at Changi Airport.
"Over the last few days, we have monitored that the haze levels have hovered between the unhealthy range and moderate levels, so it is timely for us to restart our initiative to give out masks and antiseptic hand wipes to our taxi drivers," Ang Hin Kee, executive advisor for the NTA told
Channel NewsAsia
.
CapitaLand Mall Asia also has a number of strategies to minimise health risks from the haze.
"When the haze reaches a certain level, for example 100, we will distribute masks to [our staff], and if it exceeds a certain higher level like 150, we will reduce the rotation shifts, and reduce some of the work required," Jason Loy, head of operations in Singapore, told
Channel NewsAsia
.
What about your firm? What strategies have been initiated to protect your workers from the pollution outside? We would love to hear your ideas in the comments below.
Related stories:
"Don't forget about senior leaders' health," warns Virgin Media chief
Crane accidents "unacceptable": MOM takes action
The unlikely risks facing seemingly safe employees