Minister Heng Swee Keat also urged companies in Singapore to 'pitch in' as the country undergoes an economic restructuring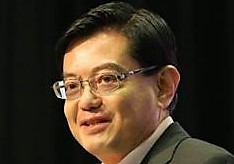 In his first extensive interview following a stroke, popular finance minister
Heng Swee Keat
told
The Straits Times
that the government "will support [workers] as they adjust to the new environment" as Singapore faces an economic restructuring.
He also underscored the need for companies to work together with government agencies to help affected workers.
"You need the effort of the workers, you need the effort of the companies and you need the government agencies to support it in the right direction," he said.
He said the fact that workers are anxious about the future of the economy and their jobs is a sign that "we are serious people and we do want to make preparations" and urged workers to turn the anxiety into action.
"It is not easy, I appreciate that. But I think if we provide a support system and, if we support one another as fellow workers, as employers, I think we can make the grade," he said.
Heng also chairs the
Committee on the Future Economy
(CFE), an organisation that consulted with private firms last year on how to make Singapore more competitive in the global market.
Their findings are set to be released early next year with recommendations on growth opportunities for companies and employees.
He added that corporate chiefs he met during the CFE meetings were confident about the country's competitiveness, despite a weaker economic environment.
"They told me, 'We do have strengths, and it is important that we build on those strengths,'" he said.
"That sense of confidence and optimism that we can do it is an important asset."
Related stories:
Employees fearful of job security, cites lack of digital skills
WP proposes retrenchment payout scheme
Revealed: 2017 real wage growth