HRD Singapore's annual survey of the best employers launches today, submit your nomination online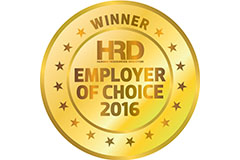 HRD Singapore today launches the 2nd annual Employer of Choice survey, calling for employees across South East Asia to rate their employers across the following areas: remuneration, training & development, gender equality, career progression, quality of work, technology, work culture, trust, leadership, work-life balance, health & wellbeing.

The aim of this report is to identify the best companies to work for, as rated by employees themselves. Last year's report revealed the big winners across the three size categories were Shell Eastern Petroleum; Jardine One Solution; and Power2Motivate. Which companies will take the top spots this year?

As HR professionals, it's up to you to spread the word to your staff in order to garner nominations for your organisation. Forward this link onto your staff to start building nominations today.

Results will be published in the August issue of HRD magazine. Survey closes 15 July.