Sixty percent of workers around the world believe they will need to retrain throughout their careers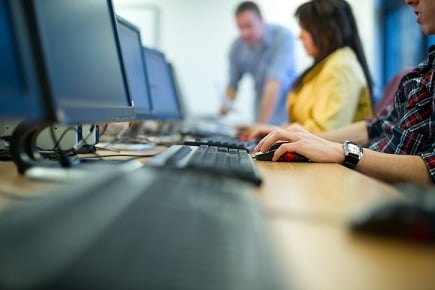 Three out of four workers across the globe are ready to take on new skills to keep up with the changing needs of their industries, new study claims. While governments and organisations all over the region have pushed for continuous learning as a means to stay competitive, the study found that their motivation to retrain may not be healthy competition, but anxiety.
Professional services network PwC surveyed 10,000 workers across the UK, Germany, China, India, and the US and found that 74% saw additional training or retraining as a personal responsibility necessary to stay employable. "Their views reinforce a shift to continuous learning while earning, so employees can keep up with technology's impact on jobs and the workplace." PwC reported.
"The reality of life-long learning is biting amongst today's workforce – no matter what age you are," said Carol Stubbings, joint global leader for People and Organisation at PwC.
According to the report, 60% of respondents believe few people will have stable, long-term employment in the future. "People are shifting from a qualification that would last a lifetime to thinking about new skills every few years, matched with ongoing development of personal skills such as risk management, leadership and emotional intelligence," she said.
The Singaporean government's ongoing skills framework projects hope to map out these changes across sectors, providing workers with insight on what skills they would need to stay at the top of their industries. The recently revamped Continuing Education and Training Masterplan provides these same workers and employers opportunities to continue that skill acquisition.
In Hong Kong, workers can apply for financial assistance through the government Continuing Education Fund, which subsidises tuition fees for workers looking to further their educations while employed.
These programs are sorely needed. Overall, 37% of PwC's respondents believe that
new technologies like automation are putting their jobs at risk
, up from 33% in 2014. Over half (56%) think governments should take action needed to protect jobs from automation.
"Anxiety kills confidence and the willingness to innovate," said Jon Williams, joint global leader for People and Organisation at PwC. "With a third of workers worried about the future of their jobs due to automation, employers need to be having mature conversations now, to include workers in the technology debate."
"This will help them to understand, prepare and potentially upskill for any impact technology may have on their job in the future. The shift is nothing less than a fundamental transformation in the way we work, and organisations must not underestimate the change ahead," he said.
New technologies are rapidly changing landscapes across sectors, and workers are clamouring for support. Firms that understand how these are happening and prepare their workforce for those changes will be best prepared to succeed.
Related stories:
The five Singapore industries that will be impacted by tech disruption
Mercer appointed to develop Singapore's HR skills framework