Two French senior executives were forced to flee as angry workers ripped the shirts from their backs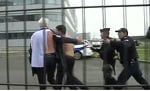 Two senior executives at a leading international airline were forced to flee the company's headquarters earlier today after hundreds of angry employees stormed the building.

Air France's VP of HR Xavier Broseta and deputy of long-haul flights Pierre Plissonnier both had the shirts ripped from their backs as they were evacuated through the braying crowds.

Workers had become outraged after the company announced plans to scrap 2,900 jobs by 2017 – the cuts include 1,700 ground staff, 900 cabin crew and 300 pilots.

The organisation also confirmed it would be cancelling its long haul fleet and would be losing 14 aircraft, effectively reducing the business by 10%.

Brotesta and Plissionnier were escorted through the hostile crowd gathered at the Charles de Gaulle International Airport in Roissy but as irate union members began tearing their suits apart, the two men were forced to climb over a fence to reach safety.

Parent company Air France-KLM said it planned to take legal action over "aggravated violence" carried out against its managers and the workers' behaviour was also condemned by France's main airline industry union FNAM, calling it 'outdated behaviour'.

Violent employee protests are commonplace in France, where the population has a history of taking the law into its own hands – this year has seen many incidents as the country struggles with economic recovery.

Photograph courtesy of YouTube.com & BBC.