Finding out about an employee's personal life could help leaders lift motivation levels.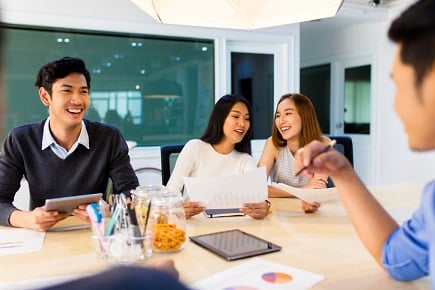 A senior figure in the field of executive coaching says leaders shouldn't shy away from getting to know their staff on a personal level as it could help them lift motivation and improve loyalty.
"I see quite a lot of hesitation from managers who feel like if they ask personal questions, that's not any of their business and they're stepping over a boundary," says Kristen Hansen, a specialist in neuroleadership and emotional intelligence.
"However, we have to remember that it's a full person coming to work – someone who may have personal challenges, financial challenges or relationship challenges that you don't know about. They may have a passion they want to pursue or their values may have shifted."
Hansen works with major firms such as Google, Allianz, Westpac and ANZ Bank – she says countless companies have lost valuable workers because they didn't discuss personal factors that may have been having an adverse impact on the employee's work performance.
"I worked with one lady who was really demotivated and disengaged but we figured out she was desperate to do some work for charities so her company sponsored her time to serve on the boards of two charitable organisations," reveals Hansen.
"She was extremely grateful to the company and became reinvigorated and re-motivated to do the work while also being able to do something she was passionate about."
Smaller efforts can also be just as effective – allowing a keen runner to take a longer exercise break during the work day so their passion doesn't eat into their personal time or empowering a parent to start slightly later so they can eat breakfast with their children, for example, can have a huge impact on an employee's overall engagement.
"The important thing is that we can't guess these things," says Hansen. "We have to have authentic conversations with staff, where we're asking open questions about what their values are, what motivates them, what would make a difference to their lives, what kind of legacy they would like to leave behind."
For those who are reluctant to connect with employees on a personal level, Hansen says they're approach is both outdated and ineffective.
"Having understanding of a person's personal life these days is paramount and I think it's an old way of thinking to say people's personal lives are their own business," she tells HRD.
"Our lives these days are so swamped that our work life interrupts and overlaps with our personal life like it never has before historically and I think taking a holistic view of a person has really become the prominent way of effective people leadership."
Related stories:
Eye-tracking technology could improve workplace health and safety
Emotional intelligence lacking from IT