The firm pleaded guilty to neglecting the Workplace Safety and Health Act after the blast and resultant fire injured three workers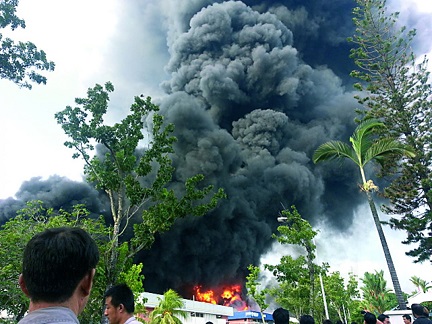 Veolia Environmental Services Singapore, a waste management company, has been fined $135,000 for failing to prevent a worksite blast that injured three workers.
On Tuesday (2 February), the company pleaded guilty to violating the Workplace Safety and Health Act by neglecting to conduct proper safety testing.
The explosion occurred on 8 November 2013 after workers mixed waste liquid with a chemical. Although this was allegedly done for safety reasons, flammable, colourless fumes from the mixture reached the incinerator area located 20 metres away.
The resultant blast caused a fire the size of two football fields. 60 firefighters took 90 minutes to put out the main blaze and a further four hours to fully extinguish the remaining pockets.
An operations manager suffered third degree burns to two thirds of his body, a chemical operator suffered second degree burns to 30 per cent of his body, and another chemical operator sustained minor burns.
Resultant investigations found that the waste liquid had been contaminated with a highly volatile chemical.
Delvinder Singh, prosecuting officer for the Ministry of Manpower, said that the firm had failed to provide proper risk assessment or implement standard operating procedures.
Furthermore, the waste liquid had not been tested – a direct violation of Veolia's internal practices – while flammable gas detectors were absent from the working environment.
Singh asked that the court impose a fine of at least $150,000 adding that it was lucky no deaths occurred as a result of the blast and consequential fire.
Augustine Liew, the lawyer for Veolia, asked the court for a fine between $30,000 and $40,000.
He pointed out that the company had paid $800,000 in medical fees to the assistant operations manager who suffered third degree burns to two-thirds of his body. Veolia also had an excellent safety record globally, he added.
For failing to implement thorough precautions and protect the health and safety of its staff, Veolia could have faced a fine of up to $500,000.
Photo credit: Jacqueline Thien
Related stories:
Laboratory fire results in worker injuries, death
Committee established to investigate fatal industrial fire
Factory fire kills 72 workers