The firm involved in a major industrial fire earlier this week is working in full cooperation with MOM to investigate the cause of the incident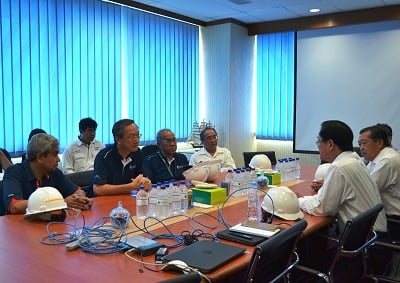 In the aftermath of a workplace fire on Monday (12 October) which injured seven workers and killed one, Leeden National Oxygen has set up a technical committee to assist the Ministry of Manpower (MOM) in its investigation.
"The company shared with [Minister of State for Manpower Sam Tan] that they have set up technical committees to work with MOM on the investigation and tightening of safety processes, as well as inspected adjacent production facilities to ensure that they remain safe for workers," MOM wrote on its Facebook page.
During a visit to the affected site on Wednesday (14 October), Tan stressed the importance of safety and urged companies to continually review their safety standards and processes.
"We must remain vigilant; we cannot be complacent or let our guard down," he said. "When it comes to safety, we must keep on improving. One life lost is one life too many."
During the inspection, Tan commended Lee Mun Hong, one of the staff on Leeden's Company Emergency Response Team (CERT), on the team's bravery, initiative and swift response to the accident.
Nelson Poh, another member of the team, spoke to reporters outside the Leeden facilities on Monday.
"When we were fighting to contain the fire, there were multiple explosions. I would be bluffing if I said I was not scared. But I kept thinking, I must not let the fire spread... I must not let it get worse."
"From far, when you hear the 'boom' sound, it's very loud. Imagine if you're standing right in front of it," he said. "There was a guy behind me, holding onto the hose; he was shivering. I told him to stay put. That was the fear we had."
Karthikeyan R Krishnamurthy, chairman of the Workplace Safety & Health (WSH) Council Committee for Chemical Industries and general secretary of the United Workers of Petroleum Industry was also at Wednesday's site visit.
He said the council was willing to address any worker concerns and render assistance if required. He also stressed the need to learn from the incident and prevent reoccurrence later on.
Related stories:
Laboratory fire results in worker injuries, death
Worker killed in industrial explosion
Factory fire kills 72 workers