The government has released the dates of next year's 11 official public holidays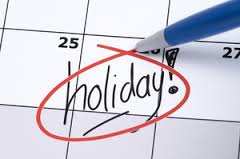 The Ministry of Manpower (MOM) has announced the 11 gazetted public holidays for 2017. HR professionals should take note of the following dates:
Holiday
Date
Day
New Year's Day
1 January
Sunday
New Year's Day (observed)
2 January
Monday
Chinese New Year
28 January
29 January
Saturday
Sunday
Chinese New Year (observed)
30 January
Monday
Good Friday
14 April
Friday
Labour Day
1 May
Monday
Vesak Day
10 May
Wednesday
Hari Raya Puasa
25 June
Sunday
Hari Raya Puasa (observed)
26 June
Monday
National Day
9 August
Wednesday
Hari Raya Haji
1 September
Friday
Deepavali
18 October
Wednesday
Christmas Day
25 December
Monday
Under the Employment Act (EA), employees required to work on a public holiday are entitled to an extra day's salary at the basic rate of pay, the Ministry said. Both employee and employer can also mutually agree to substitute a public holiday for another working day.
Employers also have the option of granting managers and executives time-off-in-lieu of a public holiday provided that the individual earns a basic monthly salary of up to $4,500. This time off should contain a pre-agreed upon number of hours.
The EA also states that if a public holiday falls on a Saturday, employees who are not required to work on that day are entitled to an additional day off or an extra day's salary in lieu of the holiday.