A new study examines the Singapore government's strict policies on immigration and their effects on the growth of the country's foreign workforce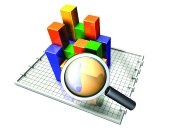 Since implementing new policy measures to limit immigration, Singapore has seen a drastic decrease in the number of foreign workers entering the country. New research from wealth management experts, Morgan Stanley, shows that year-on-year (YoY) growth in Singapore's total foreign workforce has dropped from approximately 8% in 2011 to around 2.5% in 2014.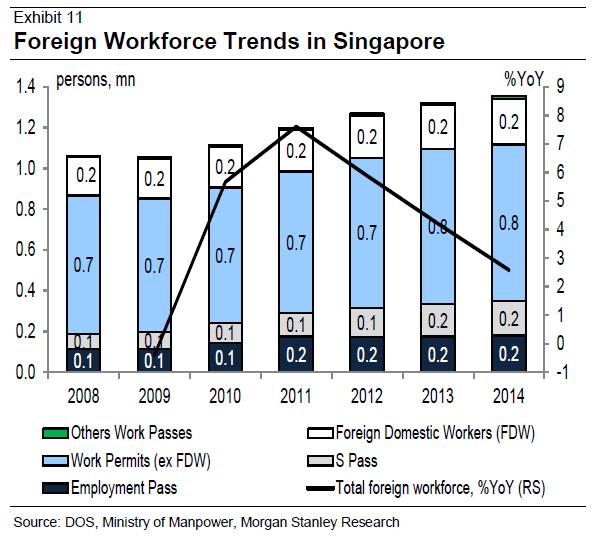 In their report -
Singapore after 50: What Next after the Quantum Leap?
- Morgan Stanley writes that this decrease was due to stricter government policies aimed at moderating immigration into Singapore. These were implemented in the years after the global financial crisis (GFC).
"Relative input price signals were altered as foreign workers' levies were raised. Lower dependency ratio ceilings were introduced to restrict the number of foreign workers relative to the total workforce. Income and education criteria were tightened for S Pass and Employment Pass applicants. Meanwhile, firms hiring new employment pass holders needed to advertise job vacancies on a jobs bank administered by [Singapore's] Workforce Development Agency for at least 14 days," Morgan Stanley wrote.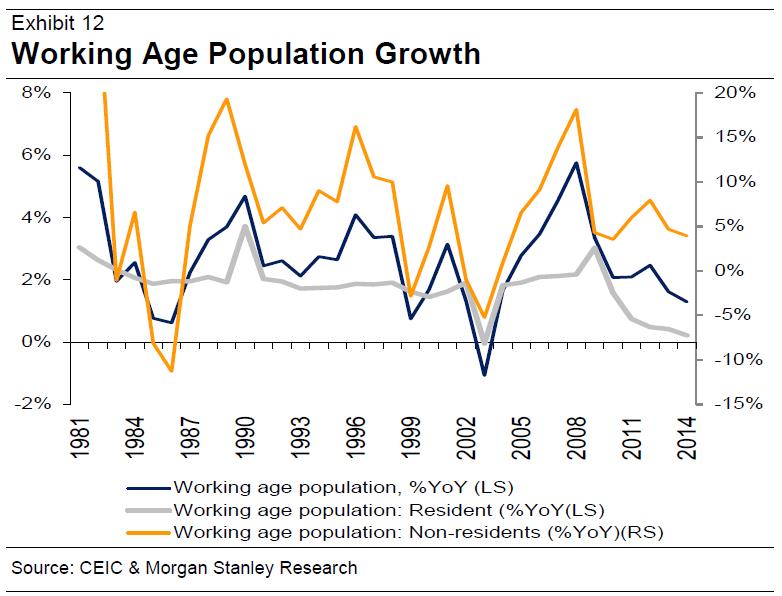 The result of these changes can be seen in the above graph, also from the Morgan Stanley report. From a peak of 18.1% YoY in 2008, growth within the working age population of non-residents decreased to 7.9% YoY in 2012 (after a trough caused by the GFC) and then further dropped to 3.9% YoY in 2014. For sake of clarity, the foreign workforce in Singapore is but a subset of the working age population for non-residents. This is the reason for the differences in growth rates found within the Morgan Stanley study.
The number of foreign workers stabilised at around 1.4 million people in 2014 with approximately 800,000 of these holding work permits. There were about 200,000 foreign domestic workers and 200,000 employment pass holders in Singapore during the same time period.
Morgan Stanley expects that these figures won't change soon as the government remains steadfast with regards to their immigration policies. "[We] believe the structural slowdown in immigration policy is now here to stay given the political repercussions [of its] side effects. Politicians have to face the ballot box every five years. [This] is too short for policymakers to loosen and backtrack on immigration policy to cater to political cycles. Moreover, growth is a means to an end, to enable the economy to grow rich before it grows old," they wrote.
Related stories
:
Will MOM's new foreign salary limits affect your organisation?
HRDs face tough new foreign recruitment laws
Singapore, where are the foreign workers going?