For Nada George, VP HR Amex, it's not about having the answers, it's about being able to problem-solve until you find them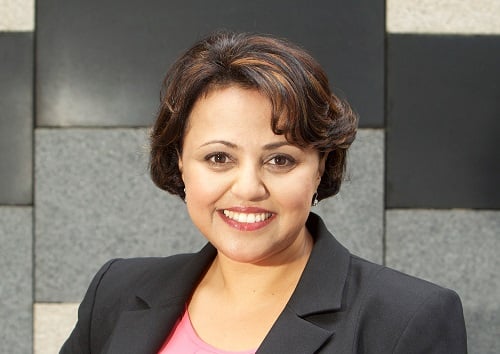 Nada George, VP, HR - New Zealand, Australia, Malaysia & the Philippines, learnt the value of education and a strong work ethic from her immigrant parents. This was formerly recognised when she won a prize that she didn't even know existed in her final year at school.
"It was for building relationships across the board. It made me think about what I wanted to do next - I wanted to work with people. It got me thinking about HR. It was an important moment; the award was the clincher."
1996 – Finds crucial piece of the puzzle
George supplemented her learning with a new field of study freshly added by her university, which augmented her studies in the field of industrial relations and HR so that her economics degree became a triple major.
"At the end of my first year they announced a new stream called management. I thought the management piece of the puzzle was really important. Picking up the additional units was not a big deal; if you love something it's not a burden.
1999 – Gains international exposure
Early in her career, a generalist role saw George become the go-to person for systems-related matters and the region's contact person. It was her first experience of working across territories and established her reputation.
"I was told about a meeting in which they were discussing the various territories and got to Asia-Pacific, and someone said, 'Nada's taking care of it; it'll be fine' – and the meeting moved on.
"It's not about having the answers; it's about being determined to problem-solve until you do."
2004 – Jumps in the deep end
Eighteen months into her time at Honeywell, George became known for having a handle on the data in a complex situation following a failed merger. When the Asia-Pacific region was restructured, the new regional head asked her to work for him.
"It was really jumping in the deep end. I did what I needed to do to get us through the chaos. Those were formative years. I was on the road three weeks out of four internationally for years."
2012 – Makes a change
A demanding role that required a move to China provided an ideal conclusion to George's time at Honeywell.
"It was a great way to pull my experience together: we hired 600 people in two years. I had grown up at Honeywell; it was time really well spent. But I was homesick. I could be comfortable or I could take a step in another direction. I realised that if you're afraid to make a move, that's probably the time to make it."
2013 – Builds a team
George replaced her US expat leader at Amex in the VP post for ANZ. It was both her first board position and the first time she had a team all in the same place.
"We had a great team; it's easier to build camaraderie when you're sitting next to them. The experience was a nice consolidation of all that had come before. I loved what I did, was excited about it; I wanted to solve things, to improve it however I could."
2016 – Expands portfolio
A month into her maternity leave, George got a call telling her of a company restructuring that would add the Philippines and Malaysia to her portfolio.
"It's about helping our leaders lead and bringing value in different ways. It's about asking great questions, and being strategic -- I have to bring value to the role in a different way. My challenge now is to determine how best to help empower people."