This Reward Gateway review will discuss how the tool is used to boost employee engagement. Find out if it is the right fit for your company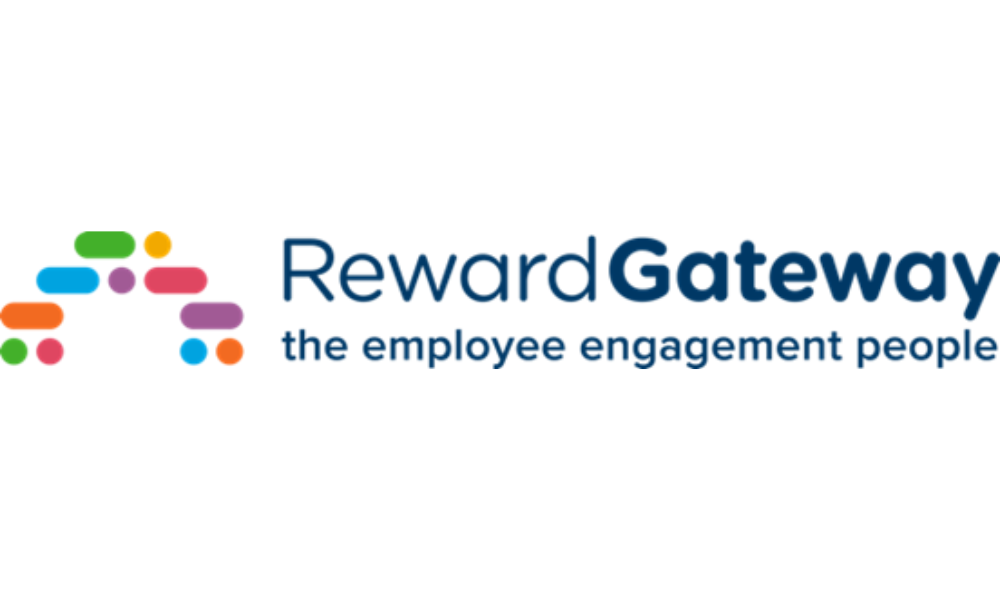 An engaged workforce plays a crucial role in the success of any organization as having effective strategies in place is key in creating a positive workplace culture, reducing staff turnover, and boosting productivity and profitability. These are among the top reasons why Reward Gateway, also known as RG, was created.
In this article, Human Resources Director gives industry professionals an overview of this cloud-based employee engagement platform. We will discuss the different programs this tool offers and why it has gained popularity among many of the world's largest brands. You can read this Reward Gateway review to see if you want to join them.
Reward Gateway is designed to help companies attract and retain top talent and improve business outcomes through a customized platform that combines six programs under a unified hub. These are:
1. Employee rewards and recognition
This part of the platform allows companies to create a comprehensive recognition program for staff at all levels, from frontline employees to C-suite executives. The idea is to celebrate all individual and team achievements in a multidirectional system that allows individual goal setting, and peer-to-peer, manager-to-peer, and social recognition.
Reward Gateway's Rewards Marketplace, meanwhile, offers employees a range of redemption choices, including:
e-Gift cards
Access to Amazon products
Custom rewards such as branded items, lunch with company executives, or prime parking spots
Charitable giving
Rewards passes via Mastercard Prepaid Card for markets outside the US, UK, and Australia
2. Employee communications
Reward Gateway provides businesses with a range of employee communication tools that helps them deliver information to employees in a timely manner. These include:
A company feed where blogs, photos, and videos can be posted
News and updates that can be sent to the entire company or segmented audiences
Tools that allow businesses to schedule content just like in other social media channels
Company-branded employee engagement app
3. Employee surveys
Reward Gateway offers companies a custom survey-building software that can help managers and HR leaders gather honest feedback from staff, which help them understand what areas of employee engagement they need to invest in. This platform also includes:
The Engaged Index: A four-question tool to measure and track workforce engagement
Employee NPS: A one-question, pulse-style survey designed for frequency and high response rates
Survey templates: A continuously evolving library of editable templates
4. Employee discounts
Reward Gateway's discounts program enables companies to give their employees significant monthly savings from essential purchases to special items, including holiday gifts. These can come in the form of:
In-store and online instant vouchers
Discounts from hundreds of retailers
Employee cashbacks
5. Employee engagement analytics
Through Reward Gateway's SmartInsights Analytics Engine, business leaders can collect a range of data that gives them detailed insights into which employee engagement activities impact their everyday culture. These metrics include:
Recognition participation
Reactions over time
Use of each communication channel that can be filtered by team, department, or the whole company
Data is collected in different real-time dashboards designed to help organizations identify insights into what is working best in terms of employee recognition and engagement.
6. Employee wellbeing
Reward Gateway's Wellbeing Center gives companies access to hundreds of videos, articles, tips, and other resources from wellness experts to help employees lead healthier lives. The program comes in four areas:
Move: Exercise videos for all fitness levels
Money: Impartial expert financial advice
Mind: Mindfulness videos to manage stress and sleep
Munch: Nutrition tips and healthy recipes
Clients have the option to purchase these tools separately or the whole package. Reward Gateway does not publicly disclose how much the programs cost, which can be because the quotes will depend on each business' unique needs.
The table below details the technical specifications of the Reward Gateway platform.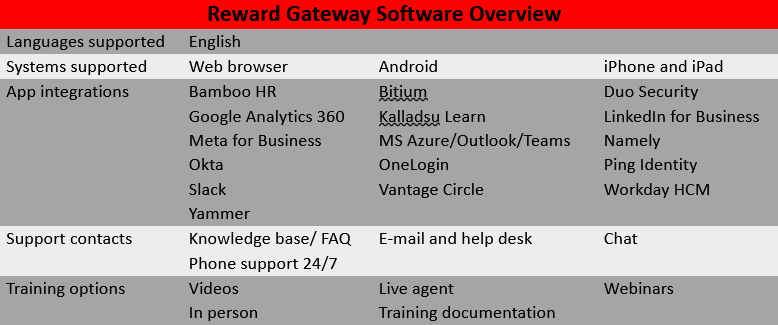 Case studies of Reward Gateway success stories
Accenture – Perks At Work
Industry: Consulting
Location: Australia
Number of employees: 4,500+
Platform features: Employee discounts
Consulting giant Accenture is known globally for attracting and retaining highly skilled and high-performing talent and part of it is because the company offers a range of employee rewards and discounts. The team in Australia, however, recognized that the company needs to change its approach to meet the changing expectations and attitudes of workers, especially in the digital era. Team members knew that providing its people easy access to a variety of personally relevant discounts was essential.
To come up with a program, Accenture factored in the typical employee's consumer habits and expectations in the digital age. The company reached out to its people to guide the initiatives and worked with an external agency to create "FRESH" – an acronym for Fun, Relevant, Engaging, Simple, and Helpful – which is a set of principles guiding its discounts strategy.
Accenture then partnered with Reward Gateway to launch "Perks At Work," a component of its discounts program that provides employees with 24/7 online access to discounts at over 380 retailers on a customized hub that reflects the company's employer brand.
On average, more than 80% of Accenture's employees access the program through the company portal and mobile SmartSpending app since its launch in 2016. This allowed them to save a combined $455,000 a year.
Heineken – BREWards
Industry: Consumer goods and services
Number of employees: 2,431
Platform features: Employee discounts, employee recognition
Popular beer manufacturer Heineken realised that its rewards and recognition program was only reaching a small percentage of its staff. The company then decided to rebrand and repackage it. With only 40 rewards worth about $1,400 available to its more than 2,400-strong workforce via its My Recognition program, less than 2% of its total employees were formally recognized each year.
This reflected poorly in their annual engagement survey, where staff also requested "recognition throughout the year, appreciation for going the extra mile, recognition to be managed consistently and fairly, and to be able to share and celebrate success across the company."
Working within a budget, the rewards team set out to develop a "new modern, flexible and innovative recognition program," subsequently named "BREWards." The program included imaginative, Heineken-themed awards, including Cheers! instant awards of $65 and Inspiring People Awards (IPAs), which apart from monetary benefits, reward employees a day off work or dinner at one of Heineken's breweries.
In the first five months following BREWards' launch, employees received 1,050 eCards and 246 Cheers! $100 instant awards. There were also 129 IPA nominations, with 14 IPA awardees, totaling 1,310 recognition awards or about 54% of Heineken's workforce. The number of staff receiving peer recognition also increased by more than 50%.
Headquarters: 141 Tremont Street, Boston, Massachusetts 02111, United States
Global locations: Boston (USA); London (UK); Sydney (Australia); Plovdiv (Bulgaria)
Size (employees): 600+
Companies served: 4,000+
Platform users: More than 6.5 million
Certifications: ISO27001
Key people: Nick Burns (CEO), Rob Boland (COO), Elli Morii (CFO), Will Tracz (chief technology), Nebel Cowhurst (chief people officer), Julie Zadow (CMO), Kylie Green (SVP, global sales), Molly Barton (group director of retail), James Edwards (group director of support and implementation), Sajuna Fernando (director of engineering)
If your company determines that the right way to reward and recognize your employees is with gift cards for specific retailers, then this is an excellent tool to do such a thing. It is possible that this is too narrow of a choice, when perhaps your employees would just prefer a cash bonus, so do some thinking about what you really want to accomplish.
For its stated purpose, Reward Gateway does an excellent job of managing a rewards and recognition program centered around retailer gift card rewards. The software does an excellent job of tracking benchmarks, making it possible for goals to be set and rewarded once they are met with little margin for error either way.
Do you have experience in using the Reward Gateway platform? Do you think it is an effective tool for employee engagement? Share your Reward Gateway review in our comments section below.