Jump to winners | Jump to methodology | View PDF
LEADERS IN CREATIVE MANAGEMENT
What does it mean to be innovative in 2021? Two of HRD's Innovative HR Teams say it's all about thinking outside of the box. Another two believe that whatever changes one makes to HR initiatives or strategies, they must be relevant to current circumstances.
"Our chief product officer once did an interview and he said something like, innovation is not always about being sexy and big," says Marilyn Yee, director of culture and engagement at Klook, one of the 21 winners this year.
"It's also about finding different ways to do things."
The changes prompted by the pandemic, from remote working becoming the new norm to overnight digitisation, challenged this year's winning HR teams to find solutions to unforeseeable problems so that employees could remain engaged despite the distance and limited social interaction.
"With the pandemic, a lot of things have changed," says Yee.
"We've found ourselves with some down-time, but we should use that as an opportunity to work on things that we've always wanted to – but didn't. I think 80% of the time is about optimising current processes and 20% is about experimenting and trying out new things."
This year's Innovative Teams had to think of creative ways to engage employees in areas such learning and development, wellness, diversity and inclusion, and company culture in an effort to manage the remote employee experience. The trickiest part of it all? There simply isn't a manual on being innovative – it all boils down to top-down communication.
"With HR practices, you can't just copy from a textbook. Or you can't say, a company's doing it – let's copy. It doesn't work that way because your culture is different; your people [and] leaders are different. It's about experimenting to see what works for your company," says Yee.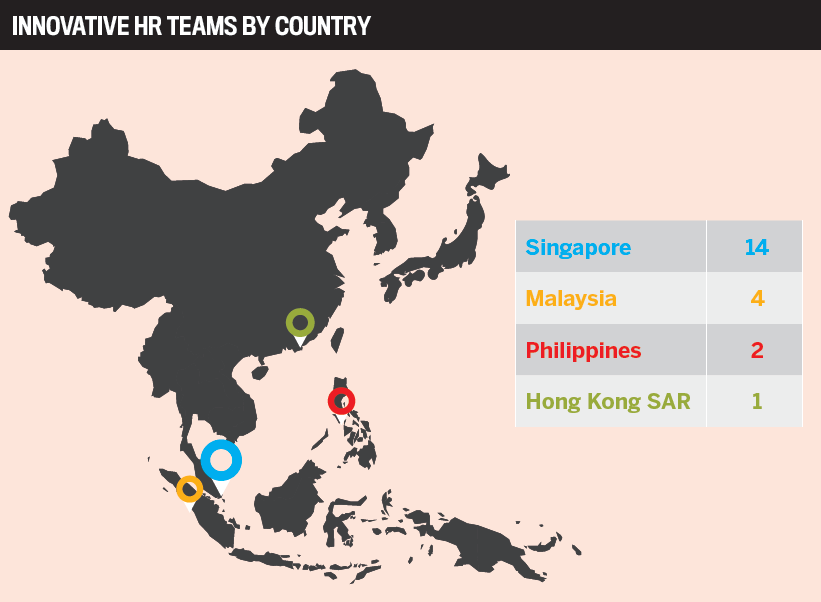 The challenge of engagement
According to HRD's research, 70% of the winners cited a similar experience with their engagement efforts in the past year, with everyone relying on a trial-and-error method to sustain a positive employee experience. Regardless, most teams cited engagement as a top challenge when they tried to roll out a new initiative. To overcome this issue, leaders turned to a multi-faceted strategy that included formal events and casual virtual catch-ups to help figure out the ideal solution for their organisation.
The results spoke for themselves. For instance, Innovative HR Team award winner Scoot Tigerair observed a 22% improvement in its overall engagement score.
Tamara Hassan, HR director for Asia at Mars, another award winner, says her company also received encouraging feedback about their engagement efforts in the past 12 months. Hassan explains that although her team had to flex on their HR policies to suit the needs of a hybrid workforce, implementing them wasn't the most challenging part of the job.
"What we found challenging is engaging people," Hassan says.
"How do you keep teams engaged when they're working remotely? How do you check in with them? Because sometimes when you have big meetings, we all know that in a virtual environment, people feel less connected and it's actually energy draining. How do we create that space and that connection?"
Managing wellbeing remotely
Building that connection and sense of community is particularly crucial in a virtual workplace. Many remote workers have struggled to manage their wellbeing in the past year, so it's unsurprising how two-thirds of the winners highlighted wellness as a strategic focus.
The leadership team at Klook, for instance, received feedback about employees' struggle to 'switch off' from work. This experience was shared by many other organisations, so HR teams set out to prioritise initiatives like corporate wellness activities and employee assistance programs, and ramp up communication efforts to help staff tackle any challenges.
Those initiatives may sound run-of-the-mill in any wellness strategy, but this year's award winners stood out due to their personalised efforts despite lockdowns and the inability to socialise during a public health crisis.
Far East Organization mailed out care packs to remind staff they always have a community to rely on for support. Klook gave company leaders the freedom to implement special off days or early release days to remind staff to take a break. Almost all the winners tweaked typically physical, in-person activities into no- pressure virtual outreach events to engage staff and lift morale, such as fitness competitions, expert health talks, and yoga or meditation sessions.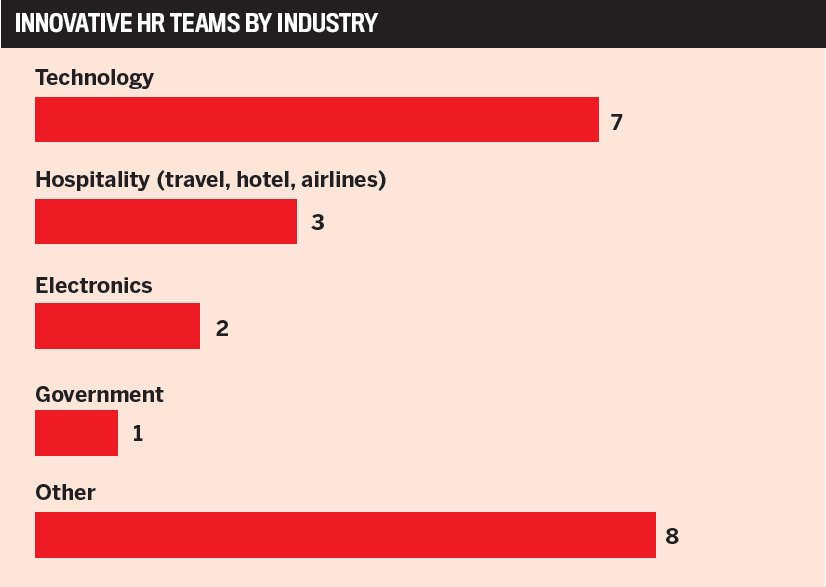 The shift to digital learning
Although the shift from in-person to virtual activities was necessary, moving in-person events online wasn't easy, and HR teams had to constantly figure out creative ways to get staff interested in joining yet another virtual event.
"One of the challenges we faced was really how do we reach associates and inspire them?" says Hassan.
"For example, if you just send an invite to a yoga session, people will just ignore it. How do you entice associates? How do you bring them along? How do you help them understand the why's? We invested a lot in that, so when we drive initiatives and activities remotely, people engage and participate."
Besides getting employees to participate in virtual wellness activities, about 70% of the winning HR teams this year shared a focus on another crucial engagement area: enabling digital learning.
For instance, the HR team at Aboitiz Equity Ventures in the Philippines had to transform a traditionally in-person learning culture into a virtual one. Before the pandemic, 98% of the company's training programs were delivered in person due to factors like employee learning preferences. Despite previous failed attempts to shift to digital learning from as early as 2016, the team pursued plans to revive their virtual learning academy during the country's lockdown period.
The team acknowledged that the pandemic was the push factor, but their concerted efforts to digitalise the learning experience helped seal the deal. From a total of 504 attendees across 67 learning sessions in 2019, the team recorded a whopping 54,046 attendees across 75 sessions in 2020. This was made possible by using social sites like YouTube for a wider reach.
Another award winner, Aztech Technologies, came up with innovative ways to encourage employees to participate in training sessions. To keep staff engaged and entertained, the team worked on incorporating fun – for example, through quizzes and dropping kooky questions such as, 'If you were a fruit, what fruit would you be?', into their training sessions.
"We have offices in Singapore, Hong Kong, China, Malaysia and so on," says Rachel Chew, regional HR director at Aztech Technologies.
"We try to have cross trainings throughout the different countries to share different cultures, and we try to have fun with it because everyone is all cooped up at home. The whole world is on remote mode right now. So, it's really about finding new ways and methods to think out of the box. Especially with the talent crunch, we definitely can't do the usual method of developing our people."
Training HR teams to be innovative
With the continued pressure on HR to discover relevant and new strategies to engage staff in a virtual or hybrid workplace, what can leaders do to inspire innovation among team members?
The award-winning team at Beam Suntory in Singapore invested heavily in HR's capabilities. Everyone has paid plenty of attention to developing employees' skill sets through the pandemic, so the company made sure they didn't overlook HR team members to keep staff on their toes. Leaders offered HR associates access to a wide range of workshops, from people analytics and HRBP training to influencing skills and resilience-building exercises.
Scoot Tigerair introduced cornerstone projects for HR staff to help ease the heavy burden of remote work. This initiative allowed team members to work cross-functionally on an area beyond their core business domain. This enabled staff to take a break from their usual schedules, build rapport with colleagues from different departments, and learn from one another in a virtual setting. The initiative led to high engagement levels for HR team members, with 94% saying they felt empowered to act on innovative ideas and develop solutions in 2020.
As an engagement leader at Klook, Yee can fully relate to how the burdens of a debilitating pandemic can impact HR, but she believes one needs to make time to be innovative to keep things running and relevant. She shares how leaders can inspire innovation in their teams.
"Number one: create a safe space so people feel empowered to bring their ideas to the table," she says.
"If you're a leader who's constantly just telling people what to do or not allowing new ideas to form in the workplace, then those new ideas [won't] give birth to themselves. Second, empower these ideas to actually become reality. So, if someone [suggests an idea], chances are they're committed to want to see it happen. You can then bring those ideas to life as part of their KPI or workload. Create a bit of space [and] don't overload your team … then there's time for innovation or creativity."
ASEAN

Greater Asian Region

Hong Kong SAR

Malaysia

Philippines
Aboitiz Equity Ventures
Everise

Singapore
Accor Asia Pacific
Aztech Technologies
BP
Cisco
Far East Organization
Government Technology Agency of Singapore
Klook
L'Oreal
Mars
Rakuten
Samsung Electronics
Schaeffler
Scoot Tigerair
Singtel
Swire Pacific Offshore
The Innovative HR Teams 2021 report recognises teams that are breaking boundaries to move the HR industry forward in what has been a tumultuous year — whether it's by taking a progressive approach to recruitment, introducing new technology or rolling out a groundbreaking reward and recognition strategy. The report offers HR teams a unique benchmarking opportunity to see how their initiatives compare to those of the profession at large
Nominations for the Innovative HR Teams 2021 were accepted between 24 May and 18 June 2021. Readers were invited to nominate HR teams that were agile, bold and forward-thinking in their people strategies. Nominators were encouraged to focus on a broad range of areas, including talent management, diversity and inclusion, health and wellness,and HR technology. Entries were expected to largely focus on initiatives introduced and results achieved in 2020.