Jump to winners | Jump to methodology | View PDF
SUSTAINING ENGAGEMENT IN THE HYBRID WORKPLACE
Being able to claim the status of Employer of Choice isn't easy by any standard, but doing so during a pandemic suggests having gone above and beyond the call of duty. Besides offering the usual slew of policies and benefits to sustain a positive employee experience, this year's 21 winners of HRD's 5-Star Employer of Choice Awards have supported staff through an overwhelming business and personal crisis.
Pandemic or not, whether they're managing 100, 500 or thousands of employees, these companies boast top-notch engagement scores, averaging around 70% or upwards. They also report experiencing low levels of voluntary turnover in the past 12 months, averaging around 10%.
While their methodologies to measure engagement vary, most conduct regular surveys that ask employees questions around their sense of pride in their job, their willingness to recommend the organisation to friends and family, as well as perceptions around leadership and corporate culture.
Actively listening to engage remote workers
To find out the secret to their high engagement levels, HRD spoke with winners of the 5-Star Employer of Choice Awards and found striking similarities in their strategies – the top of which involves focusing efforts on genuinely listening to employees.
"It's about listening and then also acting swiftly," says Pi Ken Wong, chief HR and communications officer at Allianz Asia Pacific. "It's really not about trying to get a lot of surveys done and then you wait until next year, like, 'Oh, I'm going to launch this whole bunch of new things in response', but really listening and acting as fast as we can, especially in remote work, because people need to see something happening."
According to HRD's research for the Employer of Choice Awards, the Allianz SE Singapore Branch (AZAP) reports higher levels of engagement than the overall group figures. For collaboration and communication, AZAP has a score of 85 compared with the overall group score of 79. In the category of open and honest two-way communication, AZAP obtained a score of 77 versus the group's 70. The high scores are a testament to the organisation-wide effort to enable regular communication in the past year, especially as most employees have been working from home.
Additionally, HRD's research shows that employees at another winning firm, PKF-CAP, which specialises in financial services and tax advisory, also have seen high engagement levels due to their solid communication channels. An overwhelming majority agree that the firm has open and frequent dialogue with staff (92%), practises open communication across all levels (90%) and communicates the desired organisational culture (86%).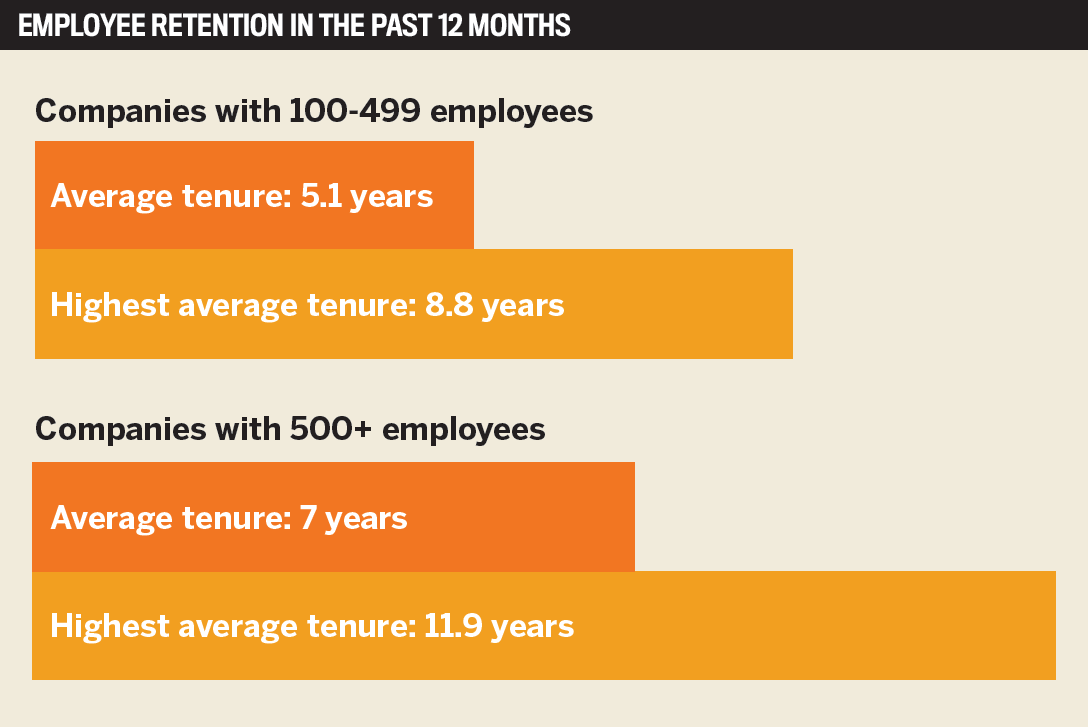 Strong leadership is key
Another award winner, Randstad, similarly emphasises the importance of active listening in engagement. However, Claire Smart, Randstad's HR director for Southeast Asia & New Zealand, acknowledges that with everyone hidden away in their home offices, it's been more difficult to get the pulse of the organisation.
"When we were in the office, we were able to watch and observe each other," she says. "We knew who demonstrated potential and readiness for the next step in their career and who was losing their interest or confidence. However, with everyone working remotely, we had to replace our line of sight with more active listening."
In the current climate, Employer of Choice research found that it's especially critical to ensure that company leaders, particularly managers, listen carefully and pick up cues from team members that may indicate any challenges at work or at home. The company can then provide the necessary support as quickly as possible. Having strong leadership has also helped other firms like PKF-CAP.
According to HRD's study, 95% of employees at PKF-CAP are confident that leaders can successfully navigate the business through the pandemic, and 85% say their leaders have set clear directions and addressed and planned for the organisation's changing needs.
Fostering social connections
HRD's research also shows that leaders have been focused on enabling strong connections in the virtual world of work. "With remote working, it's even more important to foster personal connections within teams," says Tricia Tan, HR director – South East Asia at Robert Walters Singapore, an Employer of Choice winner in the 100–499 employees category.
HRD also found that maintaining connections can help keep the company culture alive, which is key to sustaining engagement. "Employees miss being with each other in the office – the incidental water cooler conversations, the collaborative, fun and social office culture," Tan says. "Being together physically and working as a team is irreplaceable, and what makes a big part of our culture is the face-to-face interaction."
Managing work-life balance
Furthermore, encouraging that sense of social connectedness can help staff maintain work-life balance, Wong suggests. While it may seem like a natural thing to reach out to teammates for a quick chat, HRD's findings highlight that it's common for remote workers to only focus on work and nothing else while they're in their home offices.
"Yes, it's a nice time for people to concentrate and finish off a lot of the work that they wanted to do but never had time for [in the office]," Wong says. "But I think all of us are social people, and working is part of a social life that needs to be maintained."
Therefore, leaders should remind staff that "you're not alone and someone remembers that you're part of the team," he adds. This can be done through informal catch-up sessions, small gestures like sending chocolates or gifts to team members, and virtual bonding activities.
To confirm its impact, HRD's research found that employees in the AZAP office have confidently cited satisfactory levels of work-life balance due to various wellness-related initiatives. When asked about their ability to manage work and health, AZAP staff gave a positive score of 78, compared with the global group score of 74. They also scored a high 82 when asked about their ability to balance work and their personal life in the past year.

Enabling strong technology support
Furthermore, HRD's findings prove that offering strong tech support will help staff remain productive while working from home – something that can help ease any frustrations and support efforts to attain work-life integration.
"Technology adoption is the second factor that helped with remote employee engagement," says Smart. "Even though the pandemic had dampened our drive early last year and the job market became increasingly sluggish, our employees were determined to make the best of it. Thankfully, we were already technologically ready through our digital investments in the last decade."
Allianz similarly focused on tech in the past year by relaunching a new IT system, as well as rolling out a global HR system. As of December 2020, 100% of AZAP employees had migrated to the new way of working. Employees at PKF-CAP didn't miss a beat when they transitioned to remote working – 95% told HRD that they had sufficient resources and tools to perform their job at home.
High expectations in the post-pandemic environment
Now that leaders have got the hang of things after a year of remote work, what can companies do to sustain engagement in the post-pandemic workplace? Firstly, HRD's research suggests that it's best to accept that we'll likely never return to 'normal' and tweak policies accordingly.
"Companies need to understand that there is no such thing as 'pre-COVID' in the future," says Smart. "Employees have a heightened expectation to work from home and will want to have the autonomy to exercise flexibility when it comes to when, where and how they work."
Leaders must thus understand that hybrid work arrangement is no longer a question of "if we'll implement", but rather a "when and how should we roll it out".
Ilja Rijnen, international HR director at Beam Suntory, a winner in the 100–499 employees category, adds that leaders should keep the momentum going and continue to put people as the business's number one priority. He suggests that leaders develop a genuine understanding of employees' shifting needs and wants and offer only the most inspiring, relevant policies.
"Consider what the future of work looks like for them," he says. "Don't do what everyone else is doing. Consider what is right for employees and listen to what they want. Ensure a true partnership around connecting the company's ambition and people's professional ambition and personal purpose."
His colleague, Desmond Chen, HR lead for the Singapore hub, says that HR must keep up the effort to collaborate with staff to deliver a great employee experience, as well as with company leaders to build a strong and sustain-able culture in the long run.
Most of all, HRD's findings showed that leaders need to remember that engagement is all about the long game. "Sustaining an 'employer of choice' status in the post-pandemic workplace is a marathon and not a sprint," Tan says. "It's an effort that requires constant attention, reviews and collaboration to be timely and matched to the organisation's present needs and purpose. This effort evolves with the needs and wants of our employees and the organisation. The post-pandemic workplace presents a huge focus on the future of work, which will be radically different from pre-pandemic times. Ultimately, companies need to find a model that is unique and works for their business."
Allianz Asia Pacific
Beam Suntory Asia Pacific
Far East Organization
IBM Singapore
Intel
Keysight Technologies (Malaysia)
Lenovo
Marina Bay Sands
Motorola Solutions
PSB Technology Services
QIAGEN Business Services Manila
Randstad
Vodafone
By May 14, entries had flooded in, and the judging process began. Entries were scored on the companies' achievements and initiatives across a range of areas, including leadership, learning and development, wellbeing, flexibility, diversity and inclusion, work-life balance, and recruitment. These areas represent the core facets of HR, as well as the new challenges facing employers as a result of the pandemic.
The judging panel considered both qualitative and quantitative data, such as engagement survey results, average employee tenure and turnover rate. This year, 21 companies have been commended for their achievements and selected as HRD's Employers of Choice for 2021.