From staged hostage situations to becoming a Viking warrior, modern team-building activities are not what they used to be. How far would you go to build a strong workforce relationship?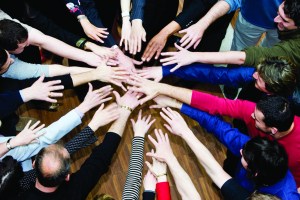 As HR professionals know, it is important to maintain a good relationship among colleagues in the workplace. Some organisations choose to establish a workplace bond by enrolling their employees in particularly bizarre activities.
HC
found some of the quirkier options available…
British organisation The Team Building Company offers an abundance of unique, wacky team-building exercises, making it the UK's most popular go-to for teambuilding bookings.
Among its quirky activities are 'blindfold driving', which according to the organisation's website focuses on "trust, communication and precision" by "finding unique alternative solutions to complex problems, in a fun and engaging way". Other bizarre activities include 'The Parmesan Job' – "a thrilling treasure hunt in mini coopers" and 'Hostage', in which employees must rescue a kidnapped senior executive or a briefcase containing secret company documents.
Offering team-building to Australia, Dubai, Hong Kong and the US, Sabre has created an array of unique team building activities. Among these is 'The Viking Saga', in which "each team will become a Viking warrior band" and "set about taking on challenges and seizing opportunities in the true Viking sprit."
US-based company teambonding is popular with various global organisations including Google, Apple, McDonald's and Disney for its quirky team-building exercises. One of their most popular options is their 'Flash Team' exercise, described on their website as "team building flash mobs". Teambonding describes the activity using Wikipedia's definition: "a large group of people who assemble suddenly in a public place, perform an unusual and pointless act for a brief time, then quickly disperse." The firm offers more than 80 activities to would-be team-builders, including 'CCSI' – Corporate Crime Scene Investigation – and 'Corporate Survivor', both based on popular US television programs.
Another of Britain's bizarre team-building offerings comes from Sumo Experience, an organisation which describes itself as "fatless fat fun". The company boasts that its experience is "fun to do and hilarious to watch" claiming that it adds a "unique tongue-in-cheek Japanese theming". Participants are provided with "top quality, foam-filled vinyl sumo suits" and "protective headgear that doubles as the authentic Sumo hairstyle".
Floridian organisation Wildly Different has devoted a whole category of activities to being 'Wildly Unique'. Included is 'Escape!' in which participants are locked in a room and must solve a series of clues to escape. Also included are a race where teams must build race cars out of vegetables and 'Marvelous', in which teams design comic books about themselves.