Calculating an appropriate Christmas bonus can be tough and sometimes HR gets it spectacularly wrong...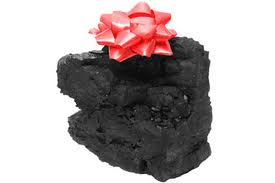 Christmas is coming and for many employees that means a much needed – and much appreciated – end of year bonus. But what about when HR gets it spectacularly wrong? Here, we take a look at some truly terrible bonuses…
1.Senile sentiment from nursing home employer
David Hood once worked as a cook at a nursing home - he says company-wide Christmas gifts always missed the mark and often caused downright offence. He shared four of his most memorable festive flops:
"One year each person got a ham," says Hood. "I don't eat meat and many of my co-workers were Jewish."
-"I got a company sweatshirt mailed to my house that was four sizes too big and one arm was longer than the other by six inches or so."
"A coupon to eat a free meal at the nursing home I worked at...as a cook. They didn't charge for staff meals either."
"An envelope full of pamphlets on how to lose weight with no letter or explanation."
"A gas card for 15 bucks from a place that had been closed for nearly six months."
2.Lost in translation
Andy Warwick was employed to write his company's English courses but when his Christmas bonus arrived he couldn't help feeling misunderstood.
Warwick, who doesn't have children, received a 20 per cent discount voucher for his company's English courses for kids. How useful…
3.Taking the biscuit
HR specialist and recruiter Corrie Hausman says her days in retail consisted of long hours, short breaks and mean customers.
"Amazingly, though, we got a Christmas bonus!" she says. "A box arrived from the head office – in it contained some cookies (six in total) which were to be shared amongst a staff of about 25, a catalogue listing all the cookies we hadn't received and a letter from the head office, telling us all to work harder. The best part? All six cookies had been smashed to bits in transit."
4.Turkey troubles
Steve Johnson, a federal contractor on a military base, received a turkey for 15 years, a tradition that survived three different contractors.
"Then the cheapest company on earth got the contract," Johnson reveals. "For Christmas that first year, they actually, honest-to-God gave the employees a photocopy of a turkey silhouette. It wasn't even a copy of a real turkey. It looked like the turkeys your kids make out of their handprints in kindergarten, except it wasn't even in colour. Just a black and white silhouette of a turkey. Several of them were taped to headquarters' front door in the days following."
Have you ever received – or given – a Christmas bonus that didn't go down too well? Let us know below.