The ride-sharing service Uber launched a unique initiative to bring some cheer to the workday while also raising money for charity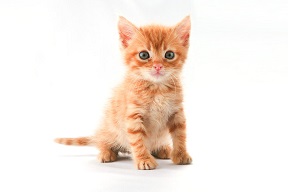 Last Thursday,
Uber
went to unorthodox measures to improve local workers' days - by launching a kitten delivery service for workplaces in Toronto, Canada.
Employees were able to request some feline companionship through the company's mobile app, by selecting "Kittens" instead of "UberX," "UberSELECT" or "UberBLACK." Kittens would then be brought into the office – complete with toys and treats.
The city widely embraced #UberKittens, and for good reason: in addition to stress reduction, the initiative also helped to benefit local animal shelters.
All the kittens came from a shelter, and people were offered the opportunity to fill out an adoption application on the spot to take a cat home. Uber representatives also collected money for donations to animal humane societies and cat rescue centres.
The program, described by Uber as a "pawsome experience" took place on North America's "National Cat Day" and lasted between 11 am and 3 pm. Some of the kittens in the "lineup" included:
Bombalurina
Marley and Joe (brothers)
Rumpleteazer
Dali and Galla
Mungojerrie
Eeny, Meenie, Minie and Moe (siblings)
While #UberKittens was only a one day event, many employers in North America have incorporated cats into the workplace to boost office morale and encourage productivity.
A government office in New Mexico, for example, runs a "cat library" designed to allow employees to keep a borrowed cat at their desk for the day. In addition, pet insurer PetPlan holds a regular "Bring Your Cat to Work Day".
One HR manager who organised kittens for her office spoke to
HRD
about the experience.
"People really loved it – you could feel the mood in the room just lift," she said.
"We're operating in a stressful environment and our staff are working under strict deadlines. I think it was just a cute and nice way to lighten the mood."