Several cities refused to enforce it, anyway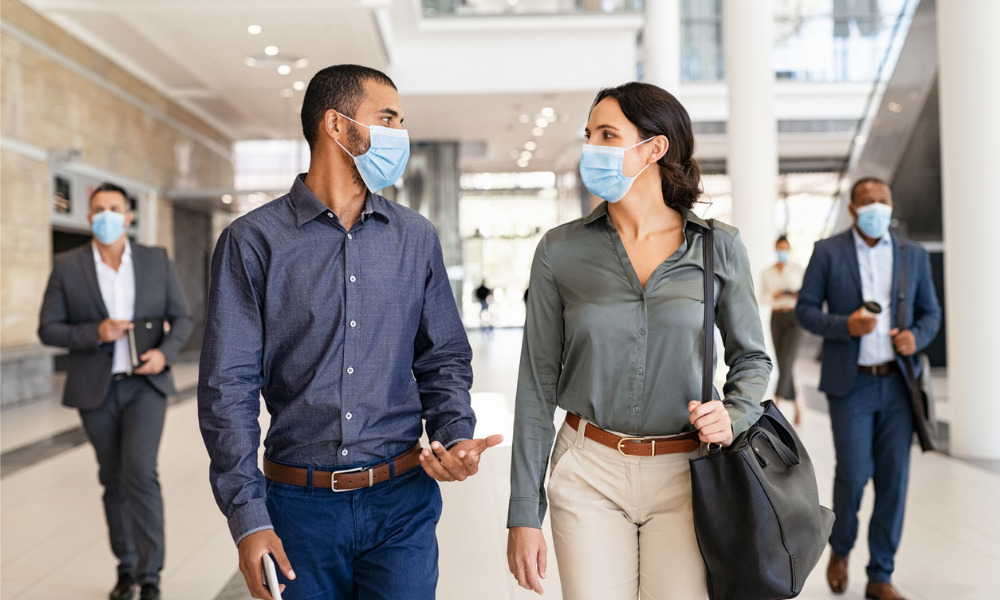 Despite speculation that Los Angeles County would reinstate its indoor mask mandate due to a recent spike in COVID-19 cases, the LA County Department of Public Health has announced no plans to do so.
Before Thursday, the number of cases and hospitalizations had pushed the county back into the "high" level of transmission defined by the U.S. Centers for Disease Control and Prevention (CDC). On July 14, the county entered the "high" level and stayed there for two weeks in a row.
However, Director of Los Angeles County Department of Public Health Barbara Ferrer reported on Thursday that COVID-19 cases and hospitalizations have declined since then. As a result, Ferrer has "paused" mandate plans, but is strongly recommending people wear masks indoors in crowded settings.
Read more: California shifts to 'endemic' approach toward COVID-19
Meanwhile, officials in the cities of Pasadena, Long Beach and Beverly Hills previously announced they wouldn't be enforcing such a mandate.
"Despite rising cases, hospitalizations among Long Beach residents remain stable, area hospitals have adequate capacity and fatalities remain low," the Long Beach Health and Human Services Department said earlier this week. "Therefore, regarding masking, the City of Long Beach will continue to align with the California Department of Public Health (CDPH), which strongly urges, but does not require, masking in most circumstances."
"Pasadena Public Health Department has determined that jurisdictional COVID-19 confirmed case rates have declined for about 10 days, and local hospitalization metrics have not continued to increase during that time," Pasadena health officials said on Tuesday. "The City of Pasadena health officer will not be issuing a general indoor mask mandate at this time."
Beverly Hills Mayor Lili Bosse called a special meeting on Monday to discuss the possibility of the mandate returning, and city officials voted unanimously against enforcement, the Los Angeles Times reported.
"I feel it is our job to lead, and I support the power of choice," Bosse said in a statement. "Our job is to be proactive and public about what we believe. This is a united City Council and community that cares about health. We are not where we were in 2020, and now we need to move forward as a community and be part of the solution."
Last week, several California educational institutions reinstated indoor mask mandates.
The University of California Irvine requires all students and staff, regardless of vaccination status, to wear masks while inside campus buildings. Earlier this summer, fellow University of California campuses temporarily restored indoor mask policies that have since expired. However, UCLA reinstated its indoor mask policy in late June and has since extended the requirement until further notice. The university has also reinstated daily symptom monitoring for students and staff.
San Diego Unified also reinstated its indoor mask mandate for students and staff. In May, the school district set criteria that would trigger the policy's return: one of those was San Diego County entering a "high" level of COVID-19 activity, which happened earlier this month, according to The San Diego Union-Tribune.
In February, California Gov. Gavin Newsom announced that the state was officially transitioning from the pandemic to the "endemic" phase. In order to adjust to the "new normal" of living with the virus, the administration has announced a variety of initiatives fueled by billions in new spending. "While we can't predict the future, we can better prepare for it," Newsom said.
The administration's strategy for combatting COVID-19: SMARTER. The acronym stands for Shots, Masks, Awareness, Readiness, Testing, Education and Rx, a reference to improving treatments for the coronavirus and its variants.
As part of the plan, if a higher level of the virus is detected, health officials will determine if it's a new variant. If it is, state and federal officials will try to determine if it responds to existing treatments and immunities from vaccines or prior infections within 30 days.