CEO is also stepping down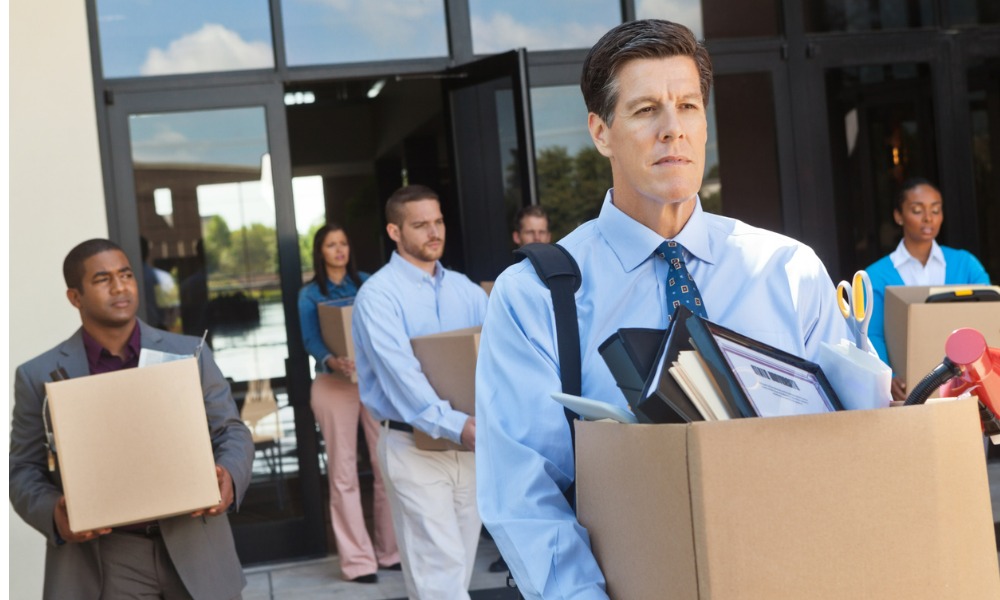 Lucidworks has joined the growing list of American employers reducing headcount ahead of an anticipated recession.
Will Hayes, CEO of the San Francisco-based tech firm, is stepping down from his role this week, The Information reported. His departure comes on the heels of the company laying off 10% of its staff (24 employees), which was first indicated by a verified Lucidworks employee on Blind, the anonymous professional social network.
The company plans to announce Hayes' replacement this week, a spokesperson told The Information.
Read more: How HR leaders should manage layoffs ahead of recession
Major brands throughout the United States, especially in California, have been trimming their workforces ahead of an economic downturn. Last week, Twilio announced it would lay off 11% of its workforce as part of a major restructuring plan, according to an SEC filing. Earlier in the week, Patreon CEO Jack Conte announced in a blog post that the company had laid off 17% of its workforce.
Last month, Snap Inc, parent company of Snapchat, planned to lay off approximately 20% of its more than 6,400 employees, which comes out to roughly 1,280 people, The Verge reported. Apple laid off roughly 100 contract-based recruiters one month after announcing plans to slow down hiring. Calm.com has also laid off 20% of its staff, according to a memo sent by CEO David Ko to employees, The Wall Street Journal reported.
A few days earlier, Sweetgreen announced 5% of its support center workforce will be laid off, CNBC reported. Additionally, the company is downsizing to a smaller office building to lower its operating expenses.
Groupon also laid off more than 500 employees, about 15% of its workforce, TechCrunch reported. The merchant development, sales, recruiting, engineering, product and marketing teams were all impacted. Fender laid off roughly 300 employees, ranging from senior management to production line workers, have been laid off, Guitar.com reported. That followed Robinhood announcing plans to lay off 23% of its workforce. In April, the Menlo Park, CA-based company reduced its headcount by 9% after company shares hit a new low, CNN Business reported.
More than 650 startups and tech firms have laid off more than 110,000 people in 2022, according to Blind's tech layoffs tracker.
Earlier this month, The New York Times reported that Goldman Sachs Group Inc. plans to cut several hundred jobs in September. Historically, the Wall Street giant has conducted an annual culling cycle, but that's been on pause during the COVID-19 pandemic. In July, the company said it planned to slow hiring and reinstate annual performance reviews, which are typically used to determine which employees aren't pulling their weight.
Read more: How to rescind a job offer
At the end of August, Bed Bath & Beyond announced it will close about 150 of its "lower producing" stores and reduce its workforce by roughly 20% across its corporate and supply chain staff, CNBC reported. Ford Motor cut about 3,000 jobs from its global workforce, a majority of which are in North America, CNBC reported. The cuts included 2,000 salaried positions and 1,000 agency jobs in the United States, Canada and India, Ford Chairman Bill Ford and CEO Jim Farley said in a message to employees that was obtained by CNBC.
Wayfair announced its cutting nearly 900 jobs, about 5% its global workforce, CNN reported. The e-commerce giant said in a regulatory filing that the cuts will help it "manage operating expenses and realign investment priorities." The layoffs will cost between $30 million to $40 million for employee severance and benefits, the company said.
Peloton has told employees that it's cutting roughly 780 jobs, including in delivery and in-house support, CNBC reported. Peloton will also be closing a significant number of its 86 retail locations, planning for an "aggressive" reduction beginning in 2023. Additionally, the company will be exiting last-mile logistics by shutting down its remaining warehouses and shifting delivery work to third-party providers like XPO Logistics.
Vox Media laid off 39 employees in the sales, marketing, recruiting and editorial departments, CNBC reported. Additionally, the mass media company with offices in New York City and Washington D.C. will be slowing down hiring and reducing non-essential expenses.
That came after CNBC reported that 7-Eleven has eliminated about 880 corporate jobs in the United States. The Dallas-headquartered company's Irving, TX and Enon, OH, support centers were impacted, as well as field support roles. The workforce reduction comes roughly one year after the convenience store chain completed its $21 billion acquisition of rival Speedway.
Google told employees that it'll be "slowing down the pace of hiring for the rest of the year," according to an internal memo by CEO Sundar Pichai obtained by The Verge. Pichai said the Mountain View, CA-based company isn't freezing hiring entirely; it'll still hire for "engineering, technical and other critical roles." But the pullback will mean "pausing development and re-deploying resources to higher priority areas," according to the memo.
The memo came on the heels of Meta, formerly known as Facebook, giving engineering managers a deadline to identify anyone on their team who "needs support" and report them in an internal HR system, The Information reported. "If a direct report is coasting or is a low performer, they are not who we need; they are failing this company," wrote Maher Saba, the company's head of engineering. "As a manager, you cannot allow someone to be net neutral or negative for Meta."
Read more: How HR should manage leadership transitions
In July, Meta CEO Mark Zuckerberg told staffers during a companywide call that not everyone was meeting the Menlo Park, CA-based company's standards and that some might want to leave voluntarily, Reuters reported. Zuckerberg added the company planned on reducing plans to hire engineers by at least 30% this year.
"If I had to bet, I'd say that this might be one of the worst downturns that we've seen in recent history," Zuckerberg said. "Realistically, there are probably a bunch of people at the company who shouldn't be here."
Early in the summer, JPMorgan Chase & Co., the biggest bank in the United States, and Coinbase, the biggest crypto currency exchange in the country, both laid off hundreds of employees. Streaming giant Netflix followed suit, announcing its second round of cuts within two months. Tesla went one step further by closing its San Mateo, CA-based facility, laying off hundreds in the process. With the housing, crypto and tech markets all facing upheaval, more companies are expected to trim their workforce in the months to come.