Half of employees quit their jobs in 2021 because of their mental health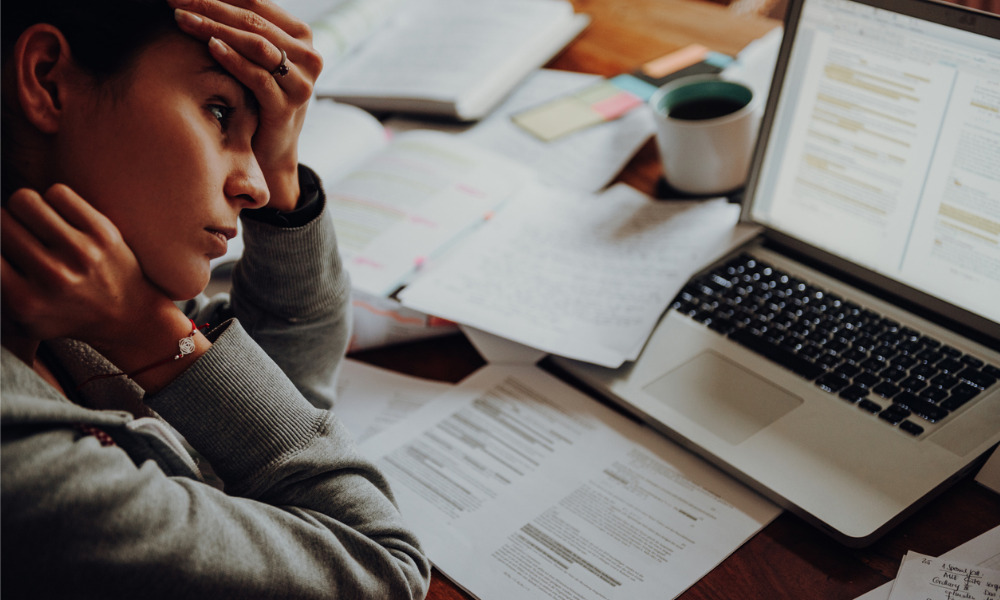 Workers' mental health has turned worse during the pandemic, and managers are no exemption.
In fact, six in 10 managers say their mental health has been hurt during the health crisis, reported Bloomberg, citing a recent survey from Prudential Financial. Among those whose direct reports are working remotely, 44% said the hybrid model had already left them burned out.
And now, 40% of managers are prioritizing their mental health over their career, based on the survey of 2,000 workers. Also, 44% of managers worry that they're falling behind in their career development and 23% of those managing remote staff said they "are not getting the support they need from their employer."
Managers' mental health seems to be taking a bigger hit compared with those of non-managers, found a survey released in April 2021. Overall, a previous survey from Gallup found that global stress levels reached a record high 43% in 2020.
Perhaps if companies took the steps necessary to alleviate stress and burnout, the Great Resignation wouldn't be so great. According to non-profit organization Mind Share Partners, 84% of employees reported at least one workplace factor that negatively impacted their mental health. Furthermore, 50% of employees claimed to leave their jobs for their mental health in 2021.
The most significant and most obvious benefit of a healthy workplace is the improvement of the workforce's health and wellbeing. Unfortunately, many have struggled with their mental health, especially since the COVID-19 pandemic, which saw many adjustments to work and home life. This shows how companies need to prioritize the psychological and physical health of the employees.
Read more: The healthy workplace and its 10 benefits
Now, workers are actually doing something to improve their mental state. Seventy percent said "they have or are considering prioritizing their personal lives over their jobs," and one in five said they'd be willing to take a pay cut for a better quality of life. On average, workers are willing to take a 10% cut to make this happen.
One thing that workers might not be getting any longer soon is work flexibility, according to the Prudential Financial report. Specifically, while 78% of hybrid workers expect that work model to be the main way people work over the next decade, 64% of managers of staff working remotely expect most companies currently using the hybrid model to want most employees to be back in the office five days a week.
The report also highlighted the Great Resignation, noting that 22% of people said they moved into a new job since the start of the pandemic, up from just 13% who said the same in a survey conducted by Prudential Financial in April 2021. The good thing is 51% of workers overall hope to work for one company until they retire — a 19 percentage point jump from 2019.
The Labor Department has reported that 4.25 million Americans quit their jobs in January, down 3.4% from December 2021 and the lowest amount since October last year.
Also, here's something good for workers: More than four in 10 (42%) of workers said their financial situation had improved since 2020. And 68% expect to get a pay raise this year, ranging between 1% and 5%. However, nearly one in four business leaders are not making any changes to pay in response to inflation, up from just 18% in December, according to a recent report.