How a healthy workplace looks at the psychosocial state of a workforce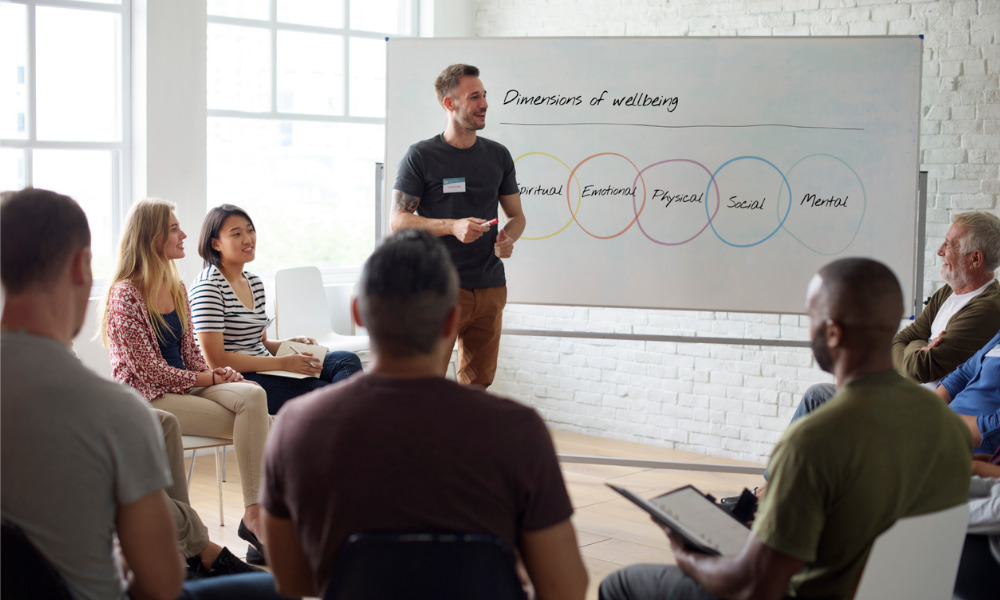 A healthy workplace is essential for every successful company, but it can be challenging for many organizations to achieve. Yet, despite the difficulty, companies continue to strive for a healthy workplace both physically and virtually. This is especially important in the time of the COVID-19 pandemic and the increasing demand for employee-centric workplaces.
But what does a healthy workplace actually bring in? Below, we enumerate what makes a healthy workplace and its positive changes for companies and employees.
Defining a heathy workplace
A healthy workplace is a setup where employees, managers, and leaders openly communicate and collaborate on a shared vision of improving the health, safety, and wellbeing of all members of the organization. According to the World Health Organization (WHO), a healthy workplace provides physical, psychological, social, and organizational conditions that protect and promote the health and safety of all workers of a company. A healthy workplace is the ideal place to work in.
There are many ways on how to improve the state of the workplace. The most common is improving the physical work environment. Offering a physical workspace where employees feel comfortable and productive is a good step to a healthy workplace. Companies should make sure that they offer the best space layout and up-to-date equipment for employees and leaders working both on-site and remotely to optimize their work routine and keep them satisfied.
A healthy workplace also looks at the psychosocial state of a workforce. Focusing on the physical aspect of a workplace can only do so much and giving importance to the psychosocial wellbeing of employees can provide better positive results when it comes to productivity, motivation, engagement, and loyalty. Having programs, activities, and policies in place that promote healthy habits and community building while protecting workers from work toxicity help in improving the mental health state of employees.
Read more: New ways to drive employee engagement
10 benefits of a healthy workplace
Listed below are 10 common benefits of a healthy workplace.
1. Improved health and wellbeing
The most significant and most obvious benefit of a healthy workplace is the improvement of the workforce's health and wellbeing. Unfortunately, many have struggled with their mental health, especially since the COVID-19 pandemic which saw many adjustments to work and home life. According to non-profit organization Mind Share Partners, 84% of employees reported at least one workplace factor that negatively impacted their mental health with 50% claiming to leave their jobs for their mental health in 2021. This shows how companies need to prioritize the psychological and physical health of the employees.
When companies take the time to consider the needs of employees, they can find the right kind of workplace culture that suits the organization. For example, improving the workplace through physical office spaces or equipment, offering more perks and benefits, and employee assistance programs (EAP) can decrease stress and fatigue, improving their mental stability and wellbeing.
2. Greater productivity and performance
A business can increase productivity when employees are healthy and happy in the workforce. When a company invests in creating a healthy workplace that prioritizes the needs of employees, it maintains the employee's excitement to work and contribute to the company and personal goals – pushing themselves to do better every time. As a result, companies will see an improvement in the performance of their employees as well as the quality output they make.
Stress can affect employee productivity greatly. Decreasing stress levels in the workplace by offering flexible work schedules and a relaxation program such as promoting mindfulness training can help decrease stress and productivity.
3. Improved corporate image
When employees are satisfied with the company culture and healthy workplace of a company, it leads to an improvement in the organization's corporate image. Having a healthy workplace shows how the company is serious about taking care of their employees, which is a factor that job applicants look for. It makes the company stand out from the rest of its competitors and helps attract a diverse and talented pool of candidates.
It also attracts more clients. Employees in a healthy workplace are more productive, which results in higher quality output. As a result, customers and clients will prefer the products and services of that business, bringing in higher profits that could go into improving the wellbeing of employees.
4. Increased job satisfaction
Seeing employees happy with the workplace is one of the significant benefits of a healthy workplace. When a workplace caters to the needs and wants of an employee, they are less likely to burn out and lose interest in their work. When this happens, the need for employees to find other opportunities elsewhere lessens and turnover rates of the company decrease.
Cultivating open communication between co-workers can encourage employees to be more engaging and collaborative, increasing satisfaction in the workplace. Another way to increase job satisfaction is by gathering feedback from employees on how they feel towards the company, work, and colleagues. By understanding their needs and issues, companies can then make the necessary upgrades to satisfy employees' wants in the workplace.
5. Greater work development and learning opportunities
Employees feel appreciated when their work environment allows them to explore their capabilities and skills in their work. Because of this, employees are excited to learn and try new things that could improve and add to their knowledge and expertise. It is up to the employers to match employees' needs and provide growth and development opportunities such as opening promotional roles to all employees interested and offering educational workshops to expand their knowledge and skills on particular topics.
6. Improved employee morale
Having a healthy workplace helps employees feel safe, heard, and comfortable enough to freely work and express their creativity without feeling judged. When an employee is buried in work without any time to take a break, they can quickly burn out and lose morale.
A healthy workplace sees employees' happiness increase and motivation to continue working. There are many ways to promote employee morale through a happy workplace, such as having team outings such as lunch outs, group workouts, and team retreats. These activities encourage employees to take time off away from their desks and build connections with co-workers – boosting employee morale.
7. Lower absenteeism rates
A company that neglects to care for its employees will see a rise in absenteeism and tardiness. This is due to employees not caring for themselves in unhealthy work environments and getting sick or not going to work.
Companies who take the time to cultivate a healthy workplace will see fewer health and sickness instances, lowering the number of absenteeism and tardiness. It also shows how companies view and care for their employees, which increases the morale and motivation of employees to do work. For example, investing in health and wellness initiatives like promoting a healthy lifestyle with wellness workshops or lifestyle assessments and educating employees about health issues can help reduce absenteeism.
8. Increased employee engagement
A healthy workplace naturally increases employee engagement in the workforce. When an employee is engaged, there is higher productivity rate, greater loyalty, better retention rates, and enhanced customer experiences.
Acknowledging employees' work through shout-outs and rewards can make employees feel appreciated and seen. This, in turn, increases their comfort and trust in the company and boosts their engagement.
9. Lower turnover rate
Employee retention is a serious issue companies face, especially now, where employees are more comfortable in exploring other opportunities. Employees who are happy with their company's work environment will be less likely to leave for another company.
When turnover rates are low, it helps companies lower costs and additional effort that constant hiring, training, and onboarding brings. In addition, when employees feel supported, appreciated, and engaged, they are more committed to their employer and doing their best work.
10. Lower workers' compensation premiums
Having a healthy workplace sees employees satisfied, motivated, and healthy. In effect, companies will see a reduction in claimed workers' compensation premiums. Although it is still vital for companies to offer workers' compensation premiums, the deduction of the claims allows employers to explore lower workers' compensation premiums that still fit the needs of employees but helps companies save money that they can direct to other wellness programs.
Read more: Banking on a healthy work-life balance
It is the responsibility of the employers to have better workplace
A healthy workplace does more than just making a company look good in the eyes of employees and customers. Cultivating a healthy workplace improves the lives of the members of the organization as it allows them to work at their best state physically, emotionally, and psychologically.
Companies need to understand that employees – although the main beneficiary of the healthy workplace – cannot achieve this alone. It is up to the companies to start the conversation of health and wellbeing with employees and from there, understand what employees are looking for to help boost their satisfaction and motivation. Keeping an open communication with the workforce and including them in improving the work environment helps guide companies in creating a healthy workplace.