Workplace stress levels have reached a record high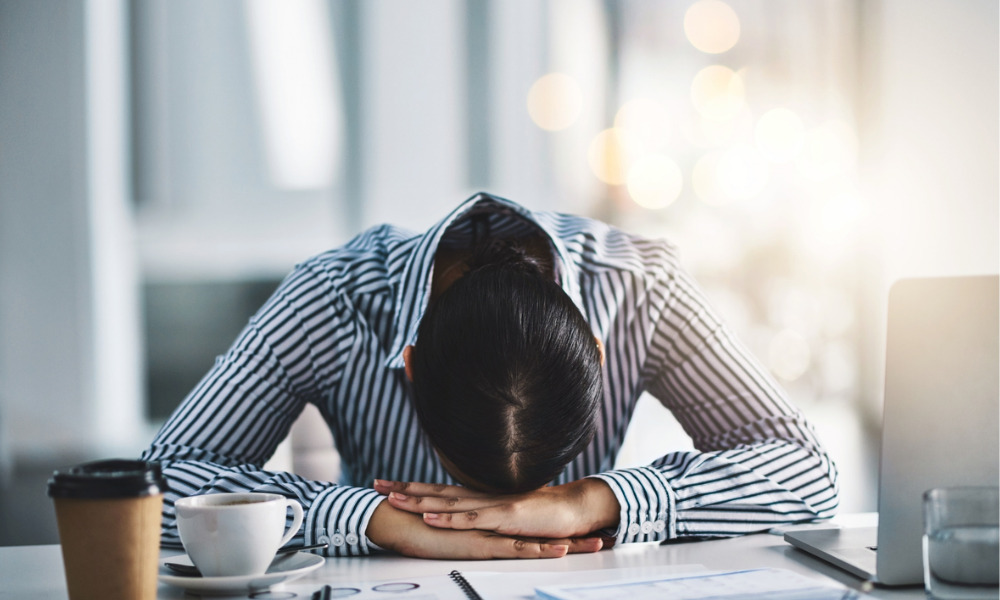 Almost half of professionals feel stressed out at work on a daily basis. Gallup's latest global report also found that stress levels have been steadily climbing in the last 10 years, reaching record high figures (43%) in 2020. When broken down by region, findings showed that employees in Canada and the US (57%) and East Asia (51%) were the most stressed worldwide.
A global study by Korn Ferry found similarly worrying findings on the stress epidemic. A whopping 88% of employees said their stress levels are much higher now compared with five years ago. All that stress and frustration at work have led to the following consequences:
Lost sleep often or occasionally (90%)
Resorted to taking sick days (34%)
Quit their jobs (34%)
Affected their personal relationships (93%)
Read more: Stressed employees are costing employers billions
What are common causes of workplace stress?
When asked about their biggest stressors at work, most professionals blamed an overwhelming workload (41%). However, while two-thirds of workers said too much work has been a killer, another 31% said they feel stressed out when there's not enough work. This led to raised insecurities and feeling like they're not adding enough value to their jobs or the business.
Another top stressor at work was bosses. The study suggested that a demanding boss may not be the only reason keeping staff up at night. Leaders who neglect an employee's career growth and development or offered unclear business direction and job instructions were just as bad. Overall, Korn Ferry found that the biggest stressors at work were:
A heavy workload (41%)
The boss (28%)
Unclear job expectations (13%)
Co-workers (12%)
Long commute (3%)
Low salary (2%)
Read more: 'Work is fast becoming the leading cause of stress'
How do employees manage stress at work?
Whatever the reason for their skyrocketing stress levels, would employees choose to seek out support at work and hopefully find ways to improve their well-being? Seemed like the responses were split in Korn Ferry's survey. Nearly two in five employees (39%) said they'd probably avoid confiding in a co-worker. Most (60%), however, might reach out to someone at work and talk through their troubles.
The top reason cited for keeping mum on the issue was that "it's none of their business" (57%). Other employees were afraid they'd be penalised in some way. About a third of workers (33%) feared that the information would reach their bosses or HR, with another 10% worrying that a recording of the sharing session would be used against them. This suggested a greater issue of a culture of mistrust – something that leaders should look into remedying and offering a safe space for all. In turn, the safe space can empower staff to manage their personal well-being.
Read more: How can HR help employees through stressful times
Strategies to manage workplace stress
Empowering staff to manage their own well-being is a powerful tool as it means that regardless of the workload, varying managerial personalities, or changing business climate, staff can learn to determine what they're comfortable with dealing at work. We spoke we leaders to find useful strategies for leaders to help employees manage their stress.
Teach staff to prioritise and manage workloads
This goes beyond empowering staff to say 'no' when they've got enough projects on their plate. Tamara Hassan, HR director for Asia at Mars explained that it's about learning the benefits of mastering energy management. Her team has been focused on educating employees and leaders at all levels on managing workloads according to their energy levels throughout the day. This can enable staff to take better charge of their day-to-day well-being. "We always talk about energy management [at work]," Hassan said. "For example, we give insights on how to flex your day or how to have five-minute breathers between meetings, so you're not having back-to-back meetings."
Read more: Five tips to boost employees' mental energy
Train managers to support staff
Another leader believes it's important to train managers to be alert of behavioural changes and support team members accordingly. Kuan-Thye Sean, managing director of employee experience, design and implementation at FedEx Asia-Pacific said that through those regular interactions, leaders should be able to start conversations and find out if someone is doing okay. "We provide tips to managers," Sean said. "For example, when a manager notices that someone may be troubled, [tips on] how do you check in with the employee and what if the employees refuse your help." Leaders can also be trained to raise awareness on mental health stressors so that employees can monitor their personal well-being and take action if necessary.
Be compassionate and suggest time off
Once leaders learn to identify signs of stress, they can offer solutions like directing staff to the company's employee assistance program (EAP) or counsellors. This can help avoid any concerns about anonymity if they're uncomfortable with sharing their problems at work. Another option is practising compassion, shared Maria Micha, clinical mental health counsellor and corporate trainer. Leaders can suggest that the employee take a couple of days off work. "[Tell them you] understand this is difficult and ask, 'why don't you take a day off?'" Micha said. Make clear that the option is offered without any consequences to the employee. "It makes people feel cared for and important," she said.
Read more: Are you okay? The power of storytelling in mental health
Encourage employees to avoid conflict at work
Furthermore, if employees feel like they're stressed out by difficult co-workers or managers, leaders can intervene and encourage staff to avoid conflict. Besides managing the problematic co-worker, leaders can help staff understand that team members may be being difficult due to their own issues. Basically, remind staff that it's not personal. "Everyone at the office, they're also humans," Micha said. "They're carrying a lot of energies and pain and fears. If we try to see them as such, then we'll have a different connection with them."
Read more: : Conflict resolution in the workplace at its finest
Help promote self-awareness and self-care
However, Micha added that not everyone may be aware of their own frustrations at work. Leaders can help staff by promoting mental health awareness and advocating self-care. "A lot of us go to work and we're not even aware we're frustrated," said the experienced counsellor. "Then a colleague says something or spills our coffee, and we're flying off the handle. We take care of our bodies, we exercise, clean our houses, and eat very healthy. But then we don't take the time to clear our brain and our energy from all the frustrations and stressors that we have in a day. [Until it] becomes almost an everyday thing. So take 10 to 15 minutes daily and just cleanse the body, mind and energy and just push away things that are not loving to you."