Companies with 100 or more employees should move forward with compliance of the mandate, lawyer suggests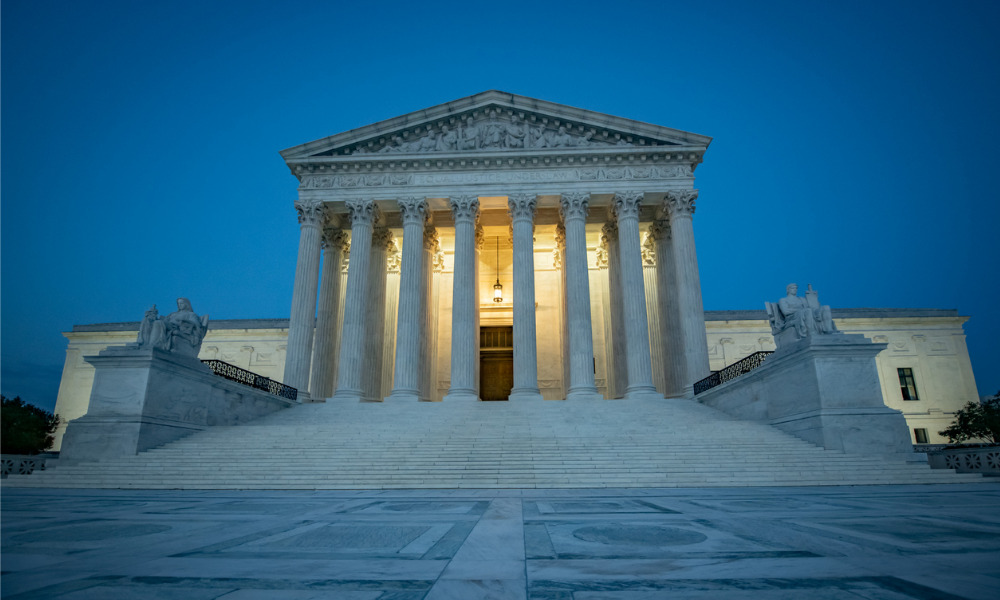 President Joe Biden's vaccine mandate goes into effect Monday, while the Supreme Court considers whether it should pause the nationwide rule.
The mandate requires workers at companies with 100 or more employees to be fully vaccinated against COVID-19 or submit to weekly coronavirus tests to confirm they don't have the virus.
As of Jan. 10, unvaccinated employees at large companies are to wear masks at work, according to the Occupational Health and Safety Administration (OSHA). Testing requirements and potential fines for employers don't kick in until Feb. 9. OSHA has estimated that the emergency temporary standard (ETS) could save more than 6,500 lives and prevent over 250,000 hospitalizations in the six months that it would be in effect.
The freedom of more than 80 million workers is at stake in the case of the National Federation of Independent Business v. Department of Labor. On Friday, the Supreme Court heard arguments for almost four hours before adjourning. "The Supreme Court usually rules without oral arguments, so it's very unusual for a hearing in this posture," Bob Nichols, a Houston-based partner at international law firm Bracewell LLP, told HRD. For more than 30 years, Nichols has represented employers in matters pending with government agencies, including OSHA.
"The Supreme Court doesn't appear to be taking on the merits of the case. Rather, they're determining whether they should put the rule on hold while it's being litigated," Nichols says.
Although the Supreme Court has yet to make a decision, Nichols suggests that employers should move forward with compliance of the mandate. "If you don't have the appropriate policy in place or unvaccinated employees wearing face coverings, you face potential fines and citations from OSHA," Nichols says.
Adjusted for inflation, The Occupational Safety and Health Act of 1970 determines a maximum penalty for repeated and willful violations of OSHA rules at $136,532, with a minimum penalty of $9,753. The legislation sets a maximum penalty of $13,653 for any single serious violation, and a further penalty of not more than $13,563 per day for a failure to abate the violation. However, the maximum penalty for this abatement failure is capped at 30 times the daily penalty.
Read more: Vaccine mandate's legal limbo means employers should 'proceed with caution'
Even if the Supreme Court allows the mandate to go forward, underlying litigation is expected to continue. "However, the rule will likely be around long enough where the Biden administration will get its intended effect, anyway," Nichols says. "The real winner is who wins this Supreme Court fight."
On the other hand, if the Supreme Court blocks the mandate, OSHA will continue to issue guidance and citations for employers who fail to implement health and safety measures related to COVID-19. For example, OSHA already requires employers to maintain proper cleaning procedures and follow isolation and quarantine guidelines.
It gets even trickier for California companies, which are regulated by the state's own division of OSHA. For example, Cal/OSHA requires employers to provide medical examinations and training, as well as pay for personal protective equipment (PPE). However, OSHA's ETS indicates that employees would be responsible for covering the cost of weekly COVID-19 testing.
"Many states have laws saying an employer can't make an employee pay for medical testing or procedures," Nichols says. "Big companies that operate in a wide variety of states will end up paying for all employees because they'll most likely operate in some states where they have to pay."
In addition to the National Federation of Independent Business v. Department of Labor, the Supreme Court also heard arguments regarding the Biden administration's vaccine mandate for health care workers at facilities receiving Medicare and Medicaid funding.
In December, the United States Court of Appeals for the Sixth Circuit in Cincinnati ruled in favor of Biden's vaccine mandate for private businesses. Lifting the Fifth Circuit's injunction from November, the 6th Circuit allowed OSHA to implement and enforce the mandate.
Just hours after the ruling, several petitions were filed to the Supreme Court to block the mandate. Last month, the high court refused to block a New York regulation mandating COVID-19 vaccinations for health care workers. In August, Supreme Court Justice Amy Coney Barrett refused to block a plan by Indiana University to require students and employees to get vaccinated against COVID-19.