Hospitals, health facilities must get more than 40,000 signatures for a referendum on the ordinance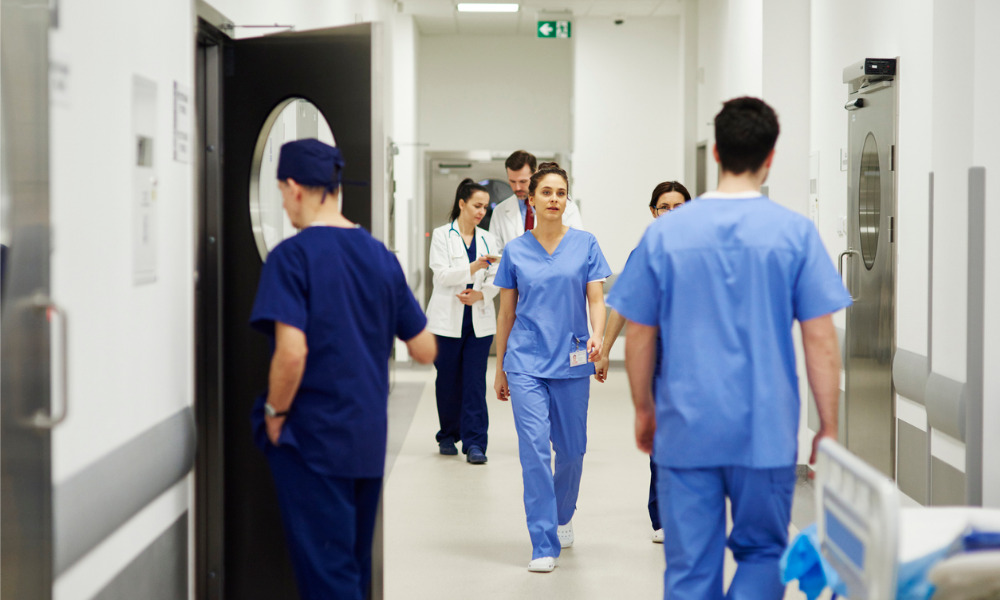 In one week, a Los Angeles ordinance raising the minimum wage for thousands of workers at private hospitals and dialysis clinics to $25 an hour will go into effect.
Unless those opposing the measure get the nearly 41,000 signatures needed for a referendum before Aug. 13.
SEIU-UHW, the health care workers union that pushed for the wage increase, alleges that signature gatherers have been misleading citizens, telling them that their signatures are needed "to pay workers more" and "to raise the health care workers' wages," the Los Angeles Times reported.
Read more: 'People shouldn't have to look to their employers to receive basic human rights'
The union has filed dozens of complaints about alleged violations of election codes to the Los Angeles County district attorney's office and to the Los Angeles city clerk's office this week. Under California law, it's illegal for anyone circulating a petition to intentionally make false statements about it. The union has also sent representatives to locations where signature gatherers are camped out "to let the public know they have an option to withdraw their signatures," SEIU-UHW spokesperson Renée Saldaña told the LA Times. According to Saldaña, the union has sent dozens of withdrawal forms from residents to the city clerk.
In June, the Los Angeles City Council voted to approve the minimum wage hike for workers at privately owned hospitals, including nursing assistants, housekeepers, clerical workers, guards, janitors and other employees who are not supervisors or managers. The measure also covers privately owned dialysis clinics and clinics and nursing facilities associated with private hospitals. The union argues that the measure is needed to retain workers who have struggled during the COVID-19 pandemic, especially with historic inflation and sky-high gas prices.
Hospital groups and other health care facilities are fighting the measure, arguing it would negatively impact facilities that rely on government revenue. As a result, vulnerable people may lose access to essential health services. One of the hospitals that has sued the city over the measure is Barlow Respiratory Hospital, which said that it "may very well cease to exist" if required to hike wages to $25 an hour, the LA Times reported.
"It excludes workers at 90% of healthcare facilities in the city of Los Angeles for no apparent reason," George W. Greene, president and CEO of the Hospital Association of Southern California, said in a statement.
"We have been consistent and open about our reasons for the referendum — the ordinance is bad policy that is inequitable and unfair for workers, and we want to give the voters the right to decide," said The No on the Los Angeles Unequal Pay Measure Campaign, a group sponsored by the California Association of Hospitals and Health Systems.
"The petition language itself that voters are signing, as well [as] our materials and advertising have been clear — we're asking voters to sign the petition to put this unequal and flawed policy to the ballot."
Last month, psychiatric technicians who work in California mental hospitals received good news: most will receive raises totaling 10.5% over three years under a new contract.
After 28 days of bargaining with Gov. Gavin Newsom's administration, the California Association of Psychiatric Technicians, which represents 5,500 employees, reached a tentative agreement on July 20. The agreement provides a 2.5% raise for all employees retroactive to July 1, as well as 4% raises in 2023 and 2024 to those who are at the top of their pay scales, The Sacramento Bee reported. Plus, the agreement provides $1,500 retention stipends for all union members.
Additionally, the agreement includes mental health and wellness stipends of $600, which would be paid twice a year through 2024 to employees who have worked for at least six months, The Sacramento Bee reported. And for the first time, psychiatric technicians are eligible for longevity pay, which includes a 2% pay bump at 17 years of employment and more for additional years, up to 5% at 25 years.