Sports icon recalls how her first Wimbledon was a 'rude awakening' about pay equity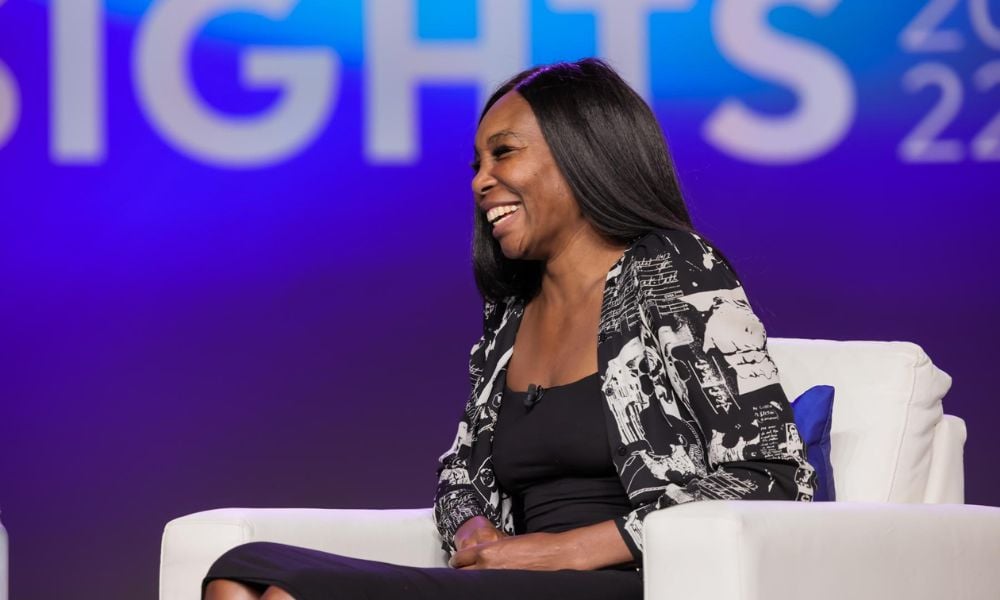 Whenever Venus Williams decides to join her sister Serena in retirement, her career will be celebrated for her achievements both on and off the court.
One of the all-time sports greats, Williams has been ranked No. 1 in the tennis world (for both singles and doubles) and has won seven Grand Slam singles titles. She's also been a champion of pay equity, fighting for women tennis players to earn the same amount of money as their male counterparts.
Legendary tennis star Billie Jean King paved the way, pressuring the U.S. Open to give matching purses in the 1970s. Williams launched her crusade three decades later, demanding Wimbledon do the same. In 2005, she presented her case for equal pay to the Grand Slam committee the night before she won the Wimbledon finals. After her plea fell on deaf ears, she wrote a column in the Times of London the next year.
"The message I like to convey to women and girls across the globe is that there is no glass ceiling," Williams wrote. "My fear is that Wimbledon is loudly and clearly sending the opposite message." Williams' activism proved fruitful – Wimbledon announced in 2007 that it would reward men and women participants with equal prize money.
Coming full circle, Williams won the title that same year, making history yet again.
Her first #Wimbledon was a "rude awakening" for @Venuseswilliams.

The legend explained why during a fantastic conversation at #CeridianINSIGHTS

We'll have a recap on HRD America this Thursday. pic.twitter.com/TMn7joXJmm

— HRD America (@HRDAmerica) November 14, 2022
It was a monumental victory for the California native, who had debuted at the oldest and most prestigious tennis tournament in the world 10 years prior. "I experienced inequity at a young age," Williams said during her keynote speech at an HR conference in Las Vegas last week. "My first Wimbledon, I was only 16. I had braces. I lost in the first round – I was very nervous and completely choked. And when I got my check, it wasn't equal to a man who also lost in the first round. It was a rude awakening."
"I wouldn't want the women I love and the people I work with to go through that," Williams added.
Although Wimbledon has gotten with the times, the gender gap – both in compensation and workforce participation – remains outside the professional sports industry. The global labor force participation rate for women is just over 50% compared to 80% for men, according to The World Bank's Gender Data Portal, and women make 83 cents for every dollar earned by men, according to the U.S. Census Bureau. Even worse, Black women, on average, were paid 58% of what non-Hispanic White men were paid in 2020.
Earlier this year, Williams launched the Privilege Tax initiative, which combats gender pay inequality. She and her clothing brand EleVen have partnered with several retailers to give customers the option to donate $1 when they purchase items from those participating companies. All proceeds go to Girls Inc., a non-profit that trains young women to navigate economic, social and gender barriers through various programs and initiatives.
"It's important to bring awareness to this," Williams said. "We don't have these conversations because we're going about our day, trying to achieve our goals and take care of our families. I'm hopeful we can start to turn this around sooner than later."
Unfortunately, the COVID-19 pandemic widened the gender gap. Millions of women had to drop out of the workforce to care for sick family members or tend to children while schools were shut down. The coronavirus crisis cost women around the world at least $800 billion in lost income in 2020, equivalent to more than the combined GDP of 98 countries, according to a study by Oxfam International.
A change agent in the truest definition, Williams urges HR leaders to emphasis equity as part of their companies' diversity, equity and inclusion (DEI) strategies. "If it's not on paper, it's not getting done," Williams said. "There has to be training, programs, etc. Everyone has bias, so we need to break through those to make a change."
Williams also spoke about what it means to be a woman in leadership, which certainly resonated with the jam-packed audience of HR professionals who are finally getting a seat at the table following the pandemic. "There are so many more women leaders at the top," Williams said. "They're breaking down barriers and opening up doors – women have to be part of mentoring the next generation."