University makes headlines over gender issue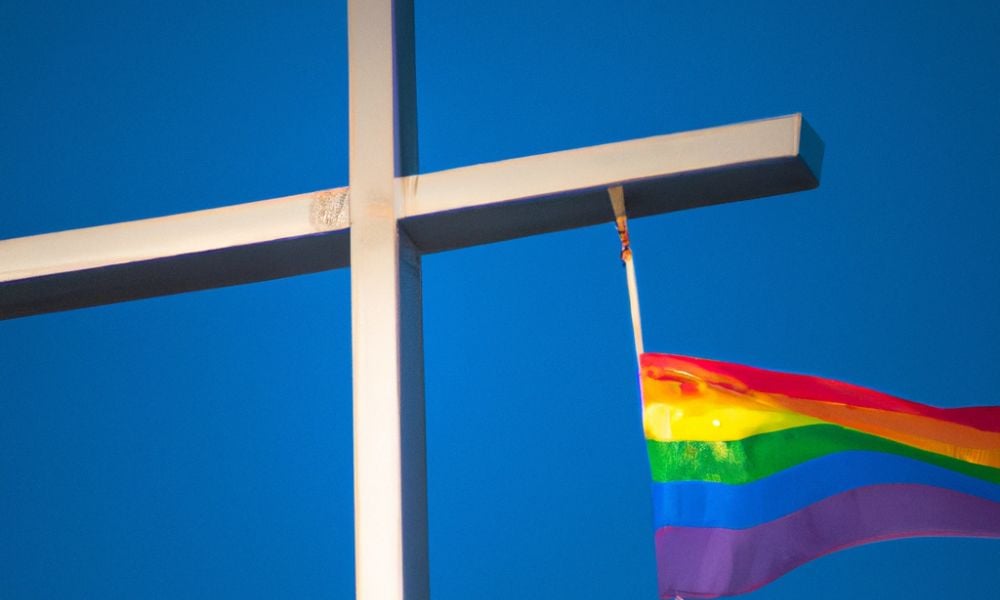 Houghton University, a Christian institution in upstate New York, has come under fire for terminating two employees who included their pronouns in their work email signatures.
Raegan Zelaya and Shua Wilmot, both residence hall directors, believed that adding pronouns demonstrated inclusivity and adhered to emerging professional standards. However, the university, which follows conservative principles of the Methodist Church, considered the pronouns a violation of a newly implemented policy and demanded their removal.
When Zelaya and Wilmot refused, they were fired just weeks before the end of the semester.
A former U.S. Postal Service letter carrier is taking his former employer to the Supreme Court next week, claiming that the agency discriminated against him and his religious beliefs.
Growing division over gender, sexuality
The dismissal of the two employees has caused a stir among Houghton's alumni, with nearly 600 individuals signing a petition in protest. The incident highlights the growing division in the United States over matters of gender and sexuality. It also reflects a trend among faith-based organizations, such as Yeshiva University in Manhattan, to assert their right to treat gay and transgender individuals differently based on religious freedom protections.
Christian colleges, including Hillsdale College in Michigan and Liberty University in Virginia, have become battlegrounds for debates on gender and sexual orientation. Despite being smaller and less prominent, Houghton University has taken steps aligned with conservative Christian values that have concerned some alumni. Recent actions by the university include the closure of a multicultural student center two years ago, an environmental sustainability program, and the withdrawal of recognition for an on-campus LGBTQ+ club due to its refusal to promote conservative views on sex and gender.
Shua Wilmot, one of the terminated employees, expressed his belief that Houghton University aims to be exclusionary toward transgender individuals, signaling its stance to potential students and their parents. "I think it boils down to: they want to be trans-exclusive and they want to communicate that to potential students and the parents of potential students," Wilmot reportedly said.
Zelaya and Wilmot, who are not transgender themselves, explained that they included pronouns for practical reasons, as their gender-neutral names often led to misgendering in email communication. They also emphasized the professional and pastoral aspects of pronoun inclusion, along with the goal of fostering inclusivity.
Employee terminations
In response to the controversy, Michael Blankenship, a university spokesperson, claimed that Houghton had never terminated employment solely based on pronoun usage in email signatures. He stated that the university has a history of removing extraneous elements from email signatures, including scriptural quotes.
Zelaya received a termination letter that cited her refusal to remove pronouns from her email signature and her criticism of an administrative decision made by the student newspaper. Houghton University, affiliated with the Wesleyan Church, maintains a public declaration of its beliefs, emphasizing its adherence to conservative Christian values and its view of adult gender nonconformity as a violation of the sanctity of human life.
The university's statement of belief acknowledges the need to address racism in America and accepts women into the priesthood, which may differ from some conservative perspectives. However, concerned alumni argue that recent changes indicate a failure of the current administration to respect a range of theological and ethical views held by faithful Christians.
Houghton University President Wayne D. Lewis Jr. responded to the alumni's concerns, explaining that many decisions were made in response to financial challenges resulting from enrollment decline and budget deficits. He reaffirmed the university's commitment to the teachings of the Wesleyan Church and emphasized the annual requirement for employees to affirm their understanding and agreement with these commitments.
A spokeperson told the Times that the University "has never terminated an employment relationship based solely on the use of pronouns in staff email signatures. Over the past years, we've required anything extraneous be removed from email signatures, including Scripture quotes."
Students at Houghton expressed frustration with the administration's decisions, noting the diverse range of political and religious beliefs held on campus. Organized actions, such as prayer vigils and sit-ins, allowed students to voice their concerns.
Resumes containing they/them pronouns are more likely to be neglected by many hiring managers, according to an earlier report.
So what is the Wesleyan church?
The Wesleyan Church, also known as the Wesleyan Methodist Church and Wesleyan Holiness Church in different regions, is a Christian denomination with a strong presence in the United States, Canada, the United Kingdom, South Africa, Namibia, Sierra Leone, Liberia, Indonesia, and Australia. The church aligns itself with the Wesleyan-Holiness movement and is heavily focused on teachings of John Wesley, the founder of Methodism. As a member of the World Methodist Council, it upholds the principles of Wesleyan-Arminian doctrine.
The Wesleyan church believes gender assignment is a divine prerogative. It states that there is no "third gender" or multiple gender construct in the Bible.
As of late 2014, the Church boasted an average weekly attendance of 516,203 devoted followers across approximately 5,800 churches worldwide. The denomination has an active presence in almost 100 nations. In North America alone, there were 140,954 registered members attending 1,607 congregations as of 2017, with an average worship attendance of 239,842 individuals.