'A lot of employers, as they work through multiple generations in the workforce, are going to think about what flexibility means to them'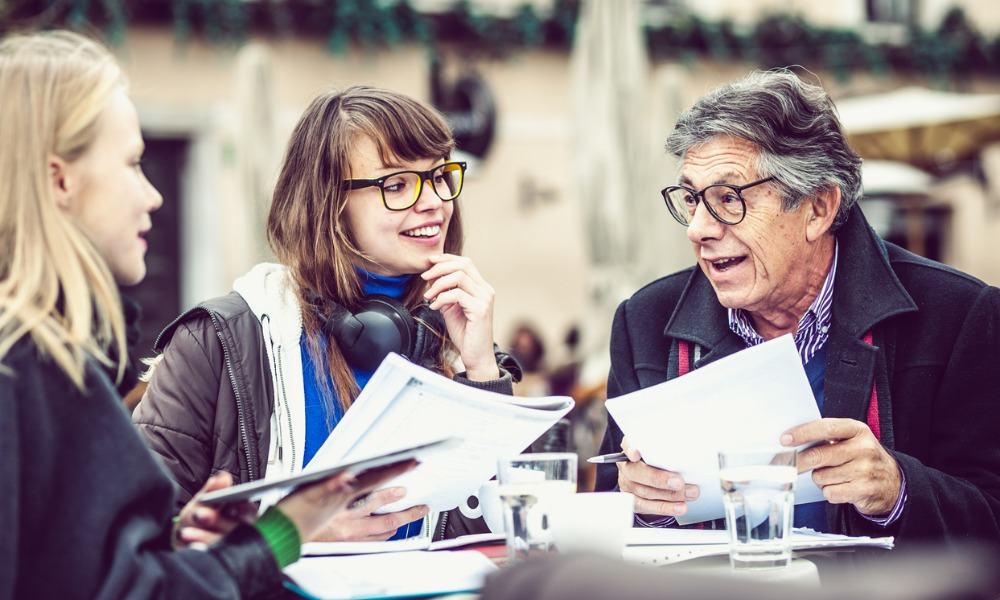 Several employers are now offering a benefit specifically designed for older workers to be able to bond with their grandchildren.
Both Booking.com and lending giant Fannie Mae introduced grandparent leave offerings in 2022.
Fannie Mae offers employees one day of paid leave per year to meet a new grandchild or build relationships with current grandchildren. In the first half of 2023, 70 of the company's 8,000 employees have taken grandparent leave, according to a Fortune report posted on Yahoo!
"It demonstrates our dedication to offering benefits for a very, very diverse group of employees at all different stages of life," said Carrie Theisen, Fannie Mae's vice president of total rewards, in the report published on Yahoo! Finance. "And helps to support our mission and our commitment to family and community."
At Booking.com, older workers get 10 days of grandparent leave.
The US spending bill for 2023 included provisions known as "Secure 2.0," which will help workers prepare for their post-career life. This included requiring employers to automatically enroll employees in their 401(k) plan at a rate of least 3% but not more than 10%.
Attracting workers
Telecoms giant Cisco first introduced grandparent leave in 2017, according to the Fortune report published on Yahoo! Finance.
Employees receive three paid days within one year of the arrival of a new grandchild. Over 30% of Cisco's roughly 40,000-strong U.S. employee base is over age 50, and more than 800 U.S. employees have taken leave since the start of 2021, including nearly 200 who've used it so far this year, according to the report.
"As we were looking at that, we said, 'If you really want to create those moments that matter, especially around a new child being born or adopted, why don't you look at grandparents as well?'" said Ted Kezios, Cisco's senior vice president of benefits.
Grandparent leaves is part of a larger trend of companies looking for new ways to hold onto employees by giving them more flexibility, according to the report.
"A lot of employers, as they start working through multiple generations in the workforce, are going to have to think about what flexibility means to them," said Kezios. "How do you evolve and make sure that you're getting the right balance between what's best for your people, and also what's best for the company?"
And companies that focus on a well-being culture – including grandparent leave – will have "the strongest people strategies to support a workforce, and [what] employees are going to want to see when choosing their next employer," said Rebecca Starr, area president at insurance brokerage and consulting firm Arthur J. Gallagher's HR consulting practice, in the report.
Previously, major UK employers including Metro Bank, NatWest, PwC, Tesco, Unilever, and Vodafone have partnered with the Positive Parenting Alliance to promote more family-friendly policies for employees undergoing divorce.
Candidates more than ever want to feel valued and supported as a whole person, according to Tiffany Haley, head of global talent acquisition at investment management firm Vanguard. Thus, HR leaders need to be curating benefits packages that support employees holistically. That means resources for child care/elder care, mental health, fitness and well-being, financial wellness and even housekeeping.
Employers could also look at other types of benefits to offer employees, including: transgender healthcare, fertility benefits, relocation assistance and even sabbaticals, said Kathy Haan, former financial advisor-turned-writer and business coach, and Cassie Bottorff, a deputy editor, in a Forbes Advisor article.
"By offering employee benefits, employers can attract and retain talented employees. There are many different types of employee benefits, so employers should consider the needs of their employees when designing a benefits package, as well as the affordability of the benefits," they said.
"Employers should also be sure to communicate the details of their employee benefits package to their employees."