The crisis is hitting C-level executives exceptionally hard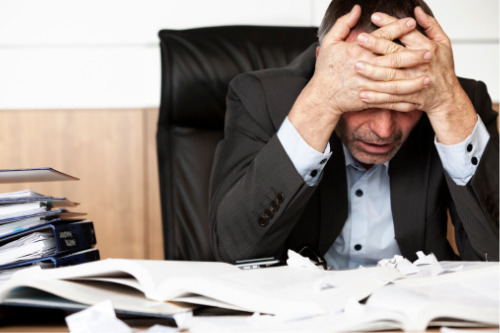 The view from the top for most C-level executives reveals a slightly different experience of life in the pandemic, with senior leaders purportedly struggling with remote working.
In a new study from Oracle and Workplace Intelligence, more than four in five C-suite executives (85%) reported issues with working out of a traditional office environment. These hurdles ranged from leaders' purported lack of technical proficiency – especially when using new tools – to the absence of face-to-face collaboration. Among their concerns were:
Problems with collaborating virtually (39%)
Increased stress and anxiety (35%)
Lack of workplace culture (34%)
Difficulties learning new technology (29%)
It wasn't just the sudden change of environment or working style that made teleworking challenging for top leaders. The disruption that swept across industries in the wake of COVID-19 also left an impact on leaders' mental health: 53% said they faced mental health issues at work since the global health crisis began. The figure is higher than the number of employees who experienced the same (45%).
Read more: Monzo founder: Even leaders struggle amid crisis
"Amidst the challenges of the pandemic, companies can use this moment as a catalyst for positive change in their organisations," said Dan Schawbel, managing partner at Workplace Intelligence.
"While the pandemic raised the urgency for companies to start protecting the mental health of their employees, the efforts they put in now will continue to create happier, healthier and more engaged workforces in the decades to come," Schawbel said.
Across age groups, younger workers are also more likely to experience psychological stress and burnout than older employees. Generation Z workers, for example, are twice as likely as Baby Boomers to put in longer hours at work amid the crisis. Meanwhile, Millennials are said to be 130% more likely than Baby Boomers to feel burnt out.
Read more: Switching off: The toxic rise of 'virtual presenteeism'
With the pandemic triggering a mental health crisis among the world's workforce, people are reaching out for help: 76% believe employers should play an active role in promoting better mental health while 83% want companies to supply better digital tools to support mental well-being, the study found.
"The solutions each company puts in place need to reflect the unique challenges of employees," said Emily He, senior vice president at Oracle Cloud HCM. "Overall, these findings demonstrate that implementing technology to improve the mental health of employees needs to be a priority for every business."