Read our Workhuman review to determine if this is the right employee rewards software for your company's needs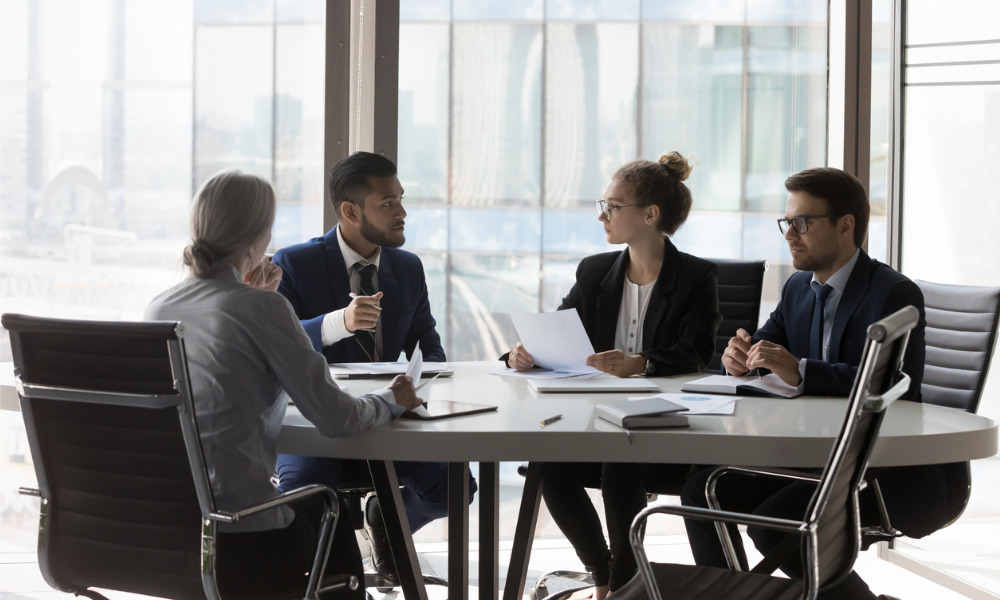 Workhuman believes that employee recognition is the linchpin of overall company growth and success. And for more than two decades, the rewards and recognition HR software firm has been helping some of the world's prominent brands build workplaces that recognize the value and potential of each employee.
In this HRD review of Workhuman, we will take a deeper look at the different solutions Workhuman offers that enable businesses to create positive employee experiences. We will also examine the role these programs play in helping companies improve employee engagement and minimize turnover.
Workhuman provides a range of employee and performance management tools, with the goal of assisting companies in achieving the following:
Creating a greater sense of belonging among employees
Boosting employee performance and productivity
Reducing staff turnover
Improving employee engagement
These tools include:
Workhuman Cloud: A software-as-a-service (SaaS) employee recognition platform
Workhuman iQ: An artificial intelligence (AI) powered social analytics software
We will discuss these solutions and other Workhuman programs in detail in the succeeding sections.
Apart from these, Workhuman hosts an annual conference for industry professionals, called Workhuman Live, which has featured prominent keynote speakers across the globe. Here's a sample chat:
They also broadcast a talk show series from its website, entitled Workhuman Spotlight, that discusses some of the most important issues facing the HR industry.
Workhuman has two main solutions that businesses can access. These are:
1. Workhuman Cloud
Workhuman Cloud is a SaaS employee recognition and continuous performance management platform that enables employees to build human connections with their co-workers and business and HR leaders to get meaningful insights into what drives employee performance, satisfaction, and retention. To date, the platform has more than six million users in 180 countries and is available in over 30 languages.
Users of Workhuman Cloud can access the following tools:
Social Recognition
Workhuman Social Recognition is a peer-to-peer recognition platform that allows employees to acknowledge and congratulate each other through company-wide, team-based social feeds. Employees can likewise earn recognition points, which they can use to redeem items from Workhuman's global network of retailers.
Business leaders, meanwhile, can use the platform to receive collective insights and real-time recommendations around how and where work gets done in their organization.
Social Recognition also works with popular messaging apps, including Slack and Microsoft Teams, so it can be easily integrated into a company's daily workflow.
Life Events
Workhuman Life Events enables businesses to build social connections by celebrating important life moments outside the office calendar. These include:
Birthdays
Birth of children
Engagements
Weddings
Pet adoptions
Moving to a new home
Even finishing their first 5K
The platform allows employees to share these moments with each other through congratulatory messages, photos, and videos. They can also earn rewards points, which they can use to redeem items from the Workhuman marketplace.
Conversations
Workhuman Conversations is a continuous performance management tool that enables employees to request and receive feedback from anyone in the company at any time. Managers can also use the platform to gather input and track an employee's progress and performance.
Service Milestones
Workhuman Service Milestones lets businesses celebrate an employee's career highlights through personalized messages, images, and videos. These work achievements can include:
Onboarding
Transfers
Promotions
Years of service
Business leaders and HR professionals can use the platform to create a record of each employee's work history, which can highlight their impact on the company, with the goal of building a culture of gratitude and connection within the organization.
Community Celebrations
Workhuman Community Celebrations provides employees a venue where people with shared interests can hold group events and celebrate milestones. These include:
Volunteer projects
Corporate social responsibility (CSR) initiatives
Employee resource groups
Cultural events
Moodtracker
Moodtracker is a free employee pulse survey tool designed by Workhuman data scientists. It provides an unlimited number of pulse surveys for all types of employees, enabling companies to understand how employees feel in real-time and act on their feedback. The platform also gives recommendations on how to address identified issues quickly.
Moodtracker's poll results appear in easy-to-read, interactive dashboards that compare a company's results against global and industry benchmark data. Businesses can also filter the findings by department, region, or team to get detailed sentiment analysis.
2. Workhuman iQ
Workhuman iQ is the HR tech firm's AI-powered social analytics platform that provides business and HR leaders with a range of talent, business, and program insights, allowing them to better understand their workforce. Among the information that companies can gather are:
Retention insights to mitigate turnover risk
Emerging trends and themes that are hindering company culture
Deep analysis of soft skills across the business
Diversity, equity, and organizational culture
The table below details the technical specifications of the Workhuman Cloud platform.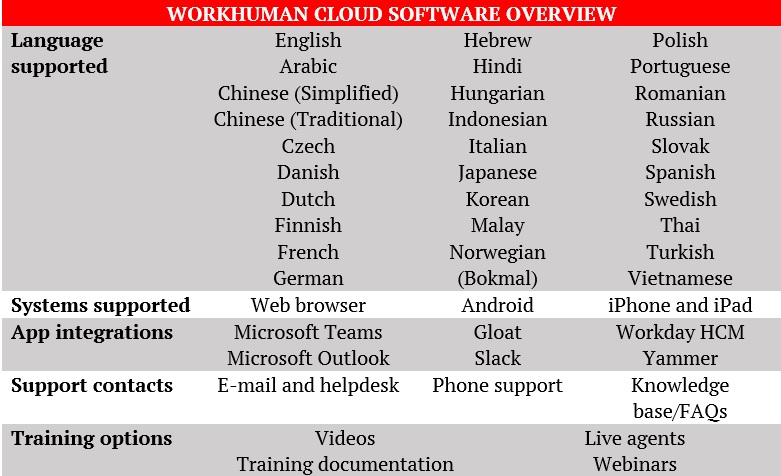 Workhuman also offers a free self-paced, exploratory program for business leaders, HR professionals, and regular employees that enables them to become a Workhuman Certified Professional.
The program consists of nine content tracks that provides a "roadmap for creating a more human workplace." With the employee building upon their existing knowledge and organizational practices, they are expected to learn the following:
How the Workhuman Certified tenets come to life in a people-first workplace culture
Strategies to help drive change and more human connection in the workplace
Tips to create an effective business proposal and gain buy-in to move initiatives forward to create a more human workplace within their organization
The self-guided course typically takes between six and eight hours to complete, but takers can complete the program at their own pace. There are also no examinations or assessment tests with the Workhuman website stating, "Workhuman Certified recognizes progress, not perfection, and your commitment to shape the future of work."
Employee rewards software has increasingly become popular among business leaders and HR professionals because of the crucial role these programs play in building a positive workplace culture. While Workhuman is a respected tool, there are some competitors who could be better fits depending on the needs of your company:
Formerly known as Globoforce, Workhuman was co-founded by current chief executive Eric Mosley and Eddie Reynolds in Dublin, Ireland in 1999. The rewards and recognition HR software firm achieved unicorn status in 2020 after being valued at $1.2 billion. It has also been consistently recognized as being among the best places to work by various awarding bodies. Here's an overview of the company.
Headquarters address: 200 Crossing Boulevard, Framingham, Massachusetts 01772, United States
Year established: 1999
Size (number of employees): 1,100+
Office locations: United States and Ireland
Number of users: More than 6 million
Key people: Eric Mosley (CEO), Tom Libretto (President), Zoe Peterson-Ward (chief customer officer), Jonathan Hyland (chief technology officer), Richard Maclachlan (chief marketing officer), Scott Dussault (chief financial officer), Steve Cromwell (chief accounting officer), Chris French (EVP, customer strategy), Niamh Graham (SVP, global human experience), Grant Beckett (SVP, corporate strategy), Sarah Whitman (SVP, e-commerce), Jason Griggs (SVP, global sales), Derek Irvine (SVP, client strategy & consulting), Jim O'Dea (SVP, operations), Jesse Harriot (global head of analytics), Nicholas Solis (VP, general counsel)
The company also details success stories through case studies with a number of companies, including:
If you're looking for a platform that can effectively streamline your company's rewards and recognition program, Workhuman Social Recognition is among the top available tools in the market. Users commended the program for its easy-to-use interface and functionality that encourages employees to recognize their peers. Workhuman's platform also integrates with popular messaging apps, allowing for seamless implementation.
Users generally only have a few complaints about the platform, including the "slightly complex" point of distribution, which can be attributed to the tool's global scope, requiring it to deal with multiple currencies and restrictive policies in some countries. Another downside of the Workhuman Social Recognition platform is that it lacked some of the HR and payroll functions present in some of its competitors. This is not a problem for companies that want to continue using their current HR and payroll software.
Workhuman is included in our list of best employee rewards programs.
Do you have any experience in using any of the Workhuman platforms? Which features did you like the most and which ones did you like the least? Share your feedback in the comments box below.